France:Top 10 ugliest outbursts by far-right Front National party candidates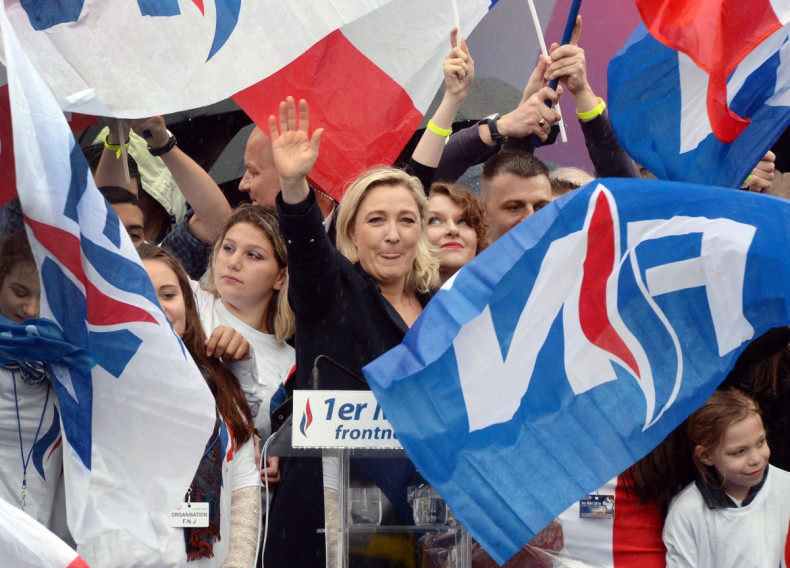 Fance's centre-right UMP party and its allies took first place in the first round of local elections.
They took 32% of the vote, while the far-right National Front (FN) came second with 25%, with President Francois Hollande's governing ruling Socialists, as expected, in third on around 20 per cent.
The second round on 29 March will see a run-off between the UMP and the the anti-immigration, anti-EU party FN in many constituencies.
Voters are electing representatives in 101 departments, or counties, charged with issues like schools and welfare.
Prime Minister Manuel Valls called on all voters of the mainstream Left or Right to "block the far-Right's path" by voting against an FN candidate in round two.
While the FN leader Marine Le Pen has worked hard to transform the image of the party her father founded, many in France suspect that when you look below the polished veneer there stil lurks a rabble that despises Muslims, Jews and black people.
Indeed, periodically an FN candidate or official lets the veil slip.
L'Entente, a campaigning website, told IBTimes UK it has been tracking and exposing the most "problematic" comments publicly made by FN candidates.
Here's the Top 10.
1. Antoine Elkik
Antoine Elkik, who is the FN's Saint-Maur-des-Fosses candidate in the Val-de-Marne, has made derisory comments about Arabs and Berbers from the French-speaking Maghreb and Muslims.
In a recent tweet about Najat Vallaud-Belkacem, the French-Moroccan Minister of Education, Higher Education and Research, Elkik said: "@najatvb you cockroach (someone with no devotion but pretends to be devoted). You are the one who needs to have its face whitened, with your Maghrebian face, Marine (Le Pen)'s shoes are cleaner than you."
In another troubling Facebook message, Elkik said that "the muzz (Muslims) are proud of their bellittlement", before referring Muslims to sado masochist "pederast (a French derogatory word for a homosexual adult who copulates with a pubescent or adolescent male) who likes to be f****d and beaten up; he has the deadly sexual pleasure of a muzz who does Ramadan by day and binges at night".
2. Sébastien Colpin
Sébastien Colpin, candidate in Midi Corrézien in Corrèze, has made similar unpleasant remarks.
In September last year, he commented on a video showing young men from a multicultural and deprived banlieue: "There is shit and shit; concerning my dog's defecation in the courtyard, a bucket of water and bleach are enough, (but) concerning these shits, a round of 7.2 bullets and a flame thrower should be sufficient!"
3. Anne Brunot
The candidate for Troyes in the Aube has made offensive comments after American hostage Kayla Mueller was killed by the Islamic State (ISIS) in February. In a tweet, Anne Brunot declared: "How can they (IS) hurst such a beautiful person (Kayla Mueller). What a shit race!"
4. Pierre Perez
Pierre Perez, the FN candidat in the Pays de Bidache, Amikuze et Ostibarre in the Pyrénées-Atlantiques, in February shared a picture on his Facebook page, which read: "Your grandparents have fought so that you didn't become German... Fight not to become Arab".
Earlier, in November 2013, the right-wing candidate posted a joke on his Facebook page, comparing Arabs to chimpanzees.
5. Jean-Marie COJANNOT
The FN candidate in L'Isle-sur-la-Sorgue in the Vaucluse, who came first in his locality last weekend with 36.59% of votes, has often blamed ethnic minorities for social problems.
In a tweet on the law for the right to housing, Jean-Marie Cojannot claims" the problem is purely ethnic. In the 1960s, there was social diversity everywhere in Paris between bourgeois and white workers."
He has also often associated Jews and financial power on Twitter. "The French government has chosen sides : Wall Street and the CRIF (Council of Jewish Institutions in France). Meanwhile, the country is moved aside...", he said in a tweet. In a retweet, he also shared his will to "sack the Zionists who swarm in our institutions".
According to revelations by Anonymous in 2012, Cojannot's name was on the list of members of l'Œuvre Française, an antisemitic splinter group now dissolved.
6. Jean-Marie Petit
Jean-Marie Petit, the candidate for l'Île-d'Yeu in Vendée, has accused Muslims of taking advantage of France's social benefits. On his Facebook page, the politician reposted a picture, which reads: "Scrap the RSA (a French work welfare benefit aimed at reducing barriers to return to work), child benefits, free healthcare etc, and you will see that we'll stop hearing about Islam in France..."
In another distressing post in February, Petit shared a photo-montage showing a plane sponsored by Justin Bridou (a French sausage maker) bombarding 'saucissons' on a line of Muslims praying on the floor, with the headline: "This time, there will be no Noah's Arch after the floods!"
7. Didier Vernet
The candidat for La Baule-Escoublac in the Loire-Atlantique, Didier Vernet has often direclty associated Muslims to Jihadism and fanatics.
In a September 2014 Facebook post, Vernet jokes: "I am really horrified by the lack of vocabulary of our journalist friends, who have forgotten the word "Muslim". They are using terms such as djihadists, terrorists, fanatics, etc. when it would be much easier to call things by their real name."
8. Michel Cataneo
This candidate for Marseille in the Bouches-du-Rhône has proudly made injurious comments about Islam.
In a September 2012 Tweet, Michel Cataneo wrote: "Islam is not a religion but a fascist mafia and will sooner of later banned in the world".
9. Alain Gerboles
After it was announced that the Qataris were reaching out to the French "banlieues" with a $65m investment to help regenerate the disadvantaged suburbs in December 2011, this FN politician in Saint-Céré in the Lot shared an article on Facebook.
He commented: "S**t money, get that into your heads, Frenchmen don't like Arabs, don't like Islam, full stop, it's genetic".
10. Frank Perrin
Frank Perrin, candidate in Biarritz in the Pyrénées-Atlantiques has often taken to social media to attack the Roma community.
In a Facebook post, the politician commented: "In Biarritz, the Romas arrive and invade the Place Clemenceau (the main square); the police and city hall's mouths are stitched, more beggars everywhere, what a country!"
He continued: "I'm going to leave the queasy ship because I cannot bear any longer seeing these slackers doing nothing, begging, and f*****g us all day with their smirks saying 'Hello Sir'. To hell with their Hello Sirs, with me it would be (straight to) mandatory work and fast because who pays for where they sleep? (their) food, dwelling, I would say only one word: s***t".
To read IBTimes UK's exclusive interview with the founder of L'Entente, click here.