Can the Franco-German Partnership That Has Held the EU Together Weather Their Differences Tackling Austerity?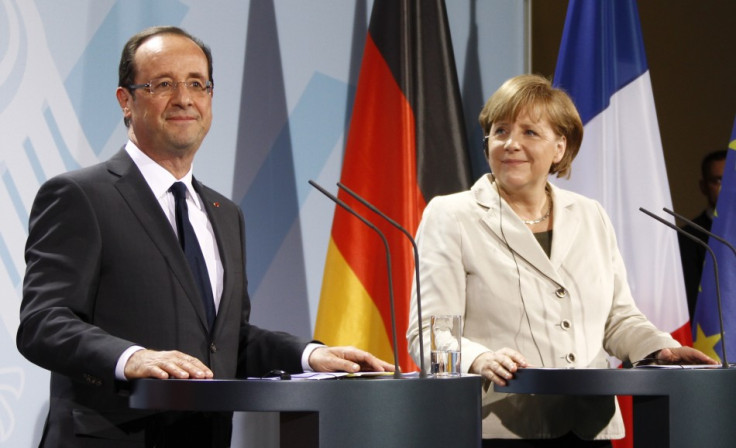 At the heart of the European Union is a pact that was first formed by two European leaders who were determined to lay to rest for good, the past enmity between their two countries. Konrad Adenauer, Chancellor of West Germany from 1949 to 1963, made his first visit to General de Gaulle, the French President and founder of the Fifth Republic, at his home in Colombey-les-Deux Églises in 1958.
The regular meetings between these two leaders led to the conclusion of the Élysée Treaty ("Treaty of Friendship") between France and West Germany in 1963. Although the Treaty of Rome establishing the European Economic Community (EEC) became effective in January 1958 before General de Gaulle's return to power later that year, it was really the ratification of this much less well-known Friendship Treaty - at least outside the respective signatories' countries - which established the close bond and regular political and cultural links between France and Germany.
Over the decades the leaders of the two countries would become the bulwark of the European Union, and after the Euro became a circulating currency in 2002, of the Eurozone as well. This was despite, on more than one occasion, the leaders of the two countries being political opposites - as with Socialist President François Mitterrand forming a close rapport with "Conservative" Chancellor Helmut Kohl.
Roughly simultaneous rapid increases in the economic prosperity of both countries following the devastation of World War II and stimulated by American Marshall Aid (European Recovery Programme 1948-1952) gave more incentive to forging common bonds. Between 1945 and 1975, France averaged over 4.5 per cent annual growth, a period known as Les "trentes glorieuses". Germany, after currency and political reforms in 1948-1949, would achieve 7.8 per cent throughout the 1950s during its "Wirtschaftswunder" (economic miracle) and again, year-on-year growth was expected as a norm until 1975. Checked by the two oil crises during the 1970s, growth would never be quite so assured yet their role of joint leadership of the EEC continued as strongly as before.
Despite all this cooperation over several decades, in recent years it has become more evident that Germany has edged ahead in the economic stakes. Even in this period of Eurozone crisis over the past two years, German manufacturing output and jobs continued to grow until, on the 02 May 2012, Markit Ltd issued a news release stating that "even German manufacturers" saw a production fall in April for the first time in 2012 which resulted in a slight decline in the sector's jobs total. Germany's exports have remained particularly strong especially those from its Mittelstand firms - small to medium businesses, often run by the same family for generations which are prudent, investing profits back into the business and generally, have little or no debt.
In France meanwhile, growth for the last quarter of 2011 was revised down to 0.2 per cent and the economy registered no growth in the first quarter of 2012. The new Government of François Hollande has made many promises including undoing his predecessor's raising of the State Pension age from 60 to 62 (and to 67 for those presently in their 20s) whilst wrestling with a budget deficit in the region of €100 billion - and the budget was last in surplus in 1974 whilst servicing the National Debt is the No 2 item of Expenditure in France's Budget. On a brighter note however, the French Household Debt is only 89 per cent of GDP in contrast to 168 per cent for the UK so there might be some "squeeze" for the new Government there!
Phillip Inman writing in The Guardian on 21 March 2011, made the point that France has the largest number of people in retirement as a proportion of the overall population. Many more of its population look to the State for employment, directly and indirectly, and for support under an economic system called "Dirigisme" - capitalist but with very strong Government directive and, over time, varying degrees of nationalisation of "key" industries
All this doesn't come cheap. Mr Inman writes:
"...Shopping is expensive even in the sales, especially when a mix of high taxes and punishing national insurance leaves you with one of the lowest rates of take home pay of any western country."
It is not however the internal economic issues of France and Germany that have caused the rift between the two nations. That has come about by the very public reneging on an austerity policy to tackle the Euro crisis made between the Governments of Chancellor Frau Merkel and President Sarkozy - all signed, sealed, delivered and in progress - coupled with barbed comments and attacks against both Germany and its Chancellor, some made by figures recently in Opposition and now in Government.
Ambrose Evans-Pritchard writing in The Telegraph on 21 May 2012 tells us in his headline that Germany is isolated and the "Latin Bloc" is in full revolt. France's François Hollande, Italy's Mario Monti and Spain's Mariano Rajoy plan to "wrest control of the EU's governing machinery from Germany."
At a meeting of EU leaders and finance ministers on Wednesday 23 May, these gentlemen will press for an EMU (European Monetary Union) wide guarantee of bank deposits, for the European Central Bank to become lender of last resort and for the issue of Eurobonds to finance a very large infrastructure programme. Boo sucks to austerity programmes!
High stakes game! Could wreck the Euro and the EU as we know it in the longer run and most certainly looks adieu to a beautiful friendship.
© Copyright IBTimes 2023. All rights reserved.