Valérie Trierweiler, 48, the quasi French first lady, has been admitted to hospital for depression and has been advised "rest and some tests".
The development comes in the wake of claims that her partner and French President François Hollande was having an affair with actress Julie Gayet.
There is also speculation that Hollande is keen to "formalise" his relationship with Gayet, which could mean the exit of Trierweiler from the Elysee Palace. If it happens, she will be the first "first lady" to be driven out of the palace in history, according to reports.
An online poll run by the political weekly Le Point has indicated that nearly 90% of the French recommend that Hollande announce his separation with Trierweiler.
"She is not the wife of the president of the Republic, she plays the role of the first lady of France, when it appears that there is another first lady. The situation needs to be clarified very rapidly," said MP Jean-Christophe Lagarde.
Who is Valérie Trierweiler?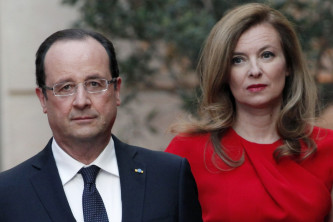 Born in 1965, Trierweiler was a journalist hosting political talk-shows in the mid 2000s when the personal relationship with Hollande reportedly began.
She first met Hollande during the parliamentary elections in 1998, when he was living with Ségolène Royal, a fellow heavyweight in the Socialist Party. Hollande, who has never married, has four children with Royal.
It is still unclear how Hollande and Trierweiler became a couple, but their love life is said to have undergone ups and downs.
Their relationship reportedly began in 2005 when Trierweiler was still married, but the couple made it public only in 2010 following Trierweiler's formal divorce.
Trierweiler, twice-divorced, has three children of her own from her previous liaisons.
Trierweiler remains a deeply controversial figure in French polity after she moved into the Elysee in 2012. Shortly after Hollande's win in the presidential elections, Trierweiler tweeted support for a candidate contesting against Hollande's former partner Royal, evoking strong criticism.
Trierweiler often draws criticism for having what is seen as undue control over the president's office.