Disgraced former TV weatherman Fred Talbot has been sentenced to five years in jail after he was found guilty of two counts of indecent assault against teenage boys.
Talbot, 65, was convicted of assaulting two boys while he was a teacher in the 1970s at Altrincham Grammar School. He was cleared of eight other charges of indecent assault.
Talbot, best known for presenting the weather on a floating map of the British Isles on ITV's This Morning, was described as being "obsessed" with teenage boys, during his trial at Manchester Minshull Street Crown Court.
The prosecution said he was a "chancer" who used his "boundless energy" and "extrovert personality" to gain the trust of the boys he abused. Both the boys, aged around 14 at the time, were indecently assaulted during boat trips organised by Talbot in the 1970s.
Upon sentencing, Judge Timothy Mort told Talbot he abused the teenage boys for his "own gratification". He added: "They were affected by your abuse of them. One developed serious mental health issues. The other says that only since the trial has he been able to move on with his life. You abused their trust."
Talbot was forced to resign from the school in Cheshire after he propositioned two boys at his home in 1984. He managed to hide his past before beginning work as a TV presenter.
Following his conviction, it emerged from Talbot's diaries that he had an "obsession" with teenage boys more than 45 years ago.
In a series of entries seized by police following his arrest, Talbot wrote how he "must watch how often I am seen with kids".
The first incident of the former weatherman revealing his tendencies for boys appeared in 1969, when he wrote: "Teaching will not make me rich, is that important. [sic] What is more interesting than a smoking, swearing, copulating 15-year-old."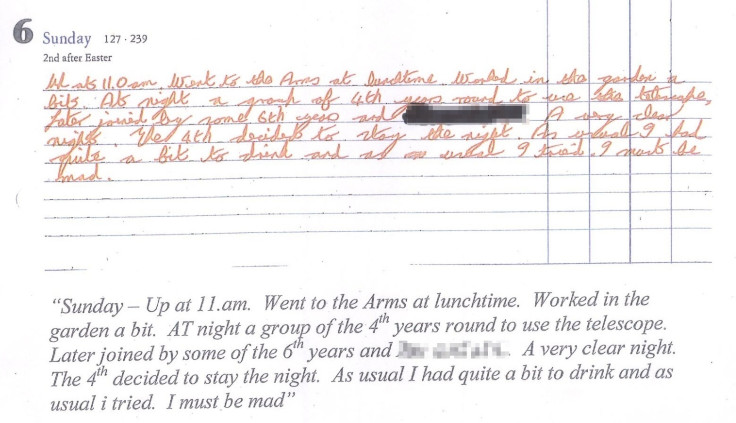 Detective chief inspector Graham Brock said Talbot plied his victims with alcohol before he assaulted them to "feed his own sexual desires".
He said: "You can imagine the excitement of a teenage boy setting off on a canal trip with friends and a teacher, who he should expect to look after him, only to return with his childhood destroyed.
"Put simply, these offences reflect an abhorrent abuse of trust by a man who has proven to have no regard for the innocence of youth he was employed to nurture.
"Had these offences occurred today, they would be considered child sexual exploitation and tackling this heinous crime is the absolute priority for Greater Manchester Police and our partners under Project Phoenix.
Altrincham Grammar School has also apologised to Talbot's victims. A spokesperson said: "These awful events took place over 30 years ago and naturally our thoughts go out to those former pupils who were subjected to this abuse.
"We are confident that our present pupils and their parents know that the school is totally committed to ensuring the safety of our students and staff at all times and that these historic offences have no bearing on the school's outstanding reputation today."