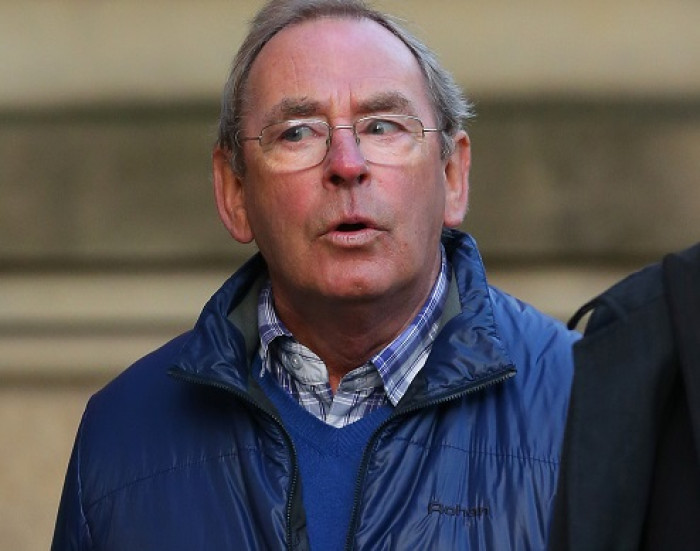 Former TV weatherman Fred Talbot asked male pupils to pretend to be girls so they could have an "orgy" on a school trip, a court has heard.
Talbot, 65, is on trial accused of assaulting teenagers between 1969 and 1982 while he worked as a teacher in Greater Manchester and Gateshead.
Four of the complainants were pupils at Altrincham Grammar School for boys, where Talbot taught biology.
Opening the case at Manchester Minshull Street Crown Court, prosecutor Neil Usher QC told the jury Talbot gave alcohol to some of the boys on a canal trip in Cheshire, coaxed them to strip naked before suggesting they "pretend to be girls so that they could have an 'orgy' which had to be kept secret".
Another former pupil also accused Talbot of molesting him on a school trip after asking him to share a bed with him. Talbot is alleged to have approached the child while working as a trainee teacher at a school in Gateshead.
Usher told the court how Talbot's "boundless energy" and "extrovert personality" helped him gain the trust of the boys he abused. He said Talbot "gambled" that the boys would not want to come forward to speak out against him as he was so well liked and the boys would not want to discuss "embarrassing matters of a sexual, indeed homosexual, nature".
He said: "The very qualities that made Fred Talbot so successful as a TV celebrity - his boundless energy, his infectious enthusiasm, his extrovert personality - helped him gain, we say, the trust of these boys.
"Trust, which the prosecution say, Mr Talbot repeatedly abused when, away from their parents on school trips organised by Mr Talbot, he sexually assaulted each of them.
"We say that when it came to teenage boys in his care, Fred Talbot was something of a 'chancer'.
"One of these men who regularly and repeatedly tries it on with his intended victim as often as he can in the hope that his sexual advances will not be rejected."
The court heard how Talbot's teaching career came to "an abrupt end" after he propositioned two boys at his house in Bowden, Altrincham.
The boys, both 15, said Talbot invited them to look at the planets using his telescope, before he showed one of the boys an album full of photographs from previous school trips, including pictures of boy's genitalia, before attempting to engage him in sexual activity.
He is alleged to have also propositioned the second boy that night in 1984 before apologising to the pair. Talbot is then said to have offered the boys his bed to stay in that night rather than sleep on the floor.
"They agreed but their gratitude was shortlived as Mr Talbot's next words to them were: 'make sure you leave room for me in the middle'," Usher told the court.
The pair told their parents about Talbot's behaviour, which resulted in him resigning from the school "with immediate effect".
Talbot, best known for presenting the weather on a floating map of the UK on ITV's This Morning in the 1990s, denies 10 counts of indecent assault.
The trial continues.