To coincide perfectly with the positive reviews that are emerging this morning after the film premiered at Toronto International Film Festival last night, A24 and StudioCanal have released the first official trailer to upcoming action thriller Free Fire, starring Cillian Murphy and Brie Larson. And boy, does it look surprisingly funny, Quentin Taratino-esque and, generally... amazing.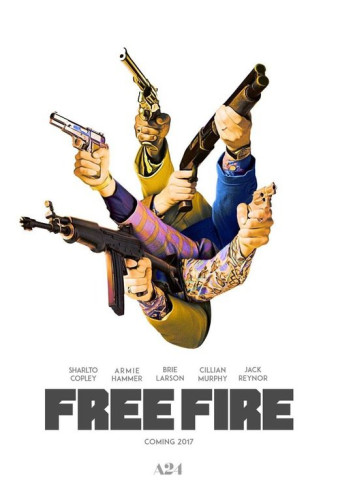 Written by Amy Jump and Ben Wheatley and directed by the latter too, the film takes place in Boston, Massachusetts in the late 1970s where a woman named Justine (Larson) brokers a meeting between two Irishmen (Murphy, Michael Smiley) and a gang led by Copley's Vernon in order for the duo to buy a stash of guns he's looking to shift. However, it doesn't take long for the rendezvous in a deserted warehouse to go south and soon everybody finds themselves in one hell of a shoot-out, fighting for their lives.
Not only did the studio unveil a trailer recently but they've also shared a look at the movie's debut poster too. In the illustrated artwork, each of the five main characters' arms can be seen brandishing different types of firearm. And of course, they're all shooting outwards.
The film also stars Armie Hammer (The Man From U.N.C.L.E.), Jack Reynor (Sing Street), Noah Taylor (Edge Of Tomorrow), Michael Smiley (Luther) and Sam Riley (Pride And Prejudice And Zombies), Free Fire will serve as the closer of the 2016 BFI London Film Festival on 16 October and will be released in UK cinemas on 31 March 2017. There is no set date as to when it will reach big screens in the US.
For more entertainment news follow A-List on Twitter @Alistinsider