The London Underground will continue to offer free Wi-Fi access at 72 of its stations for the rest of the year, thanks to Virgin Media.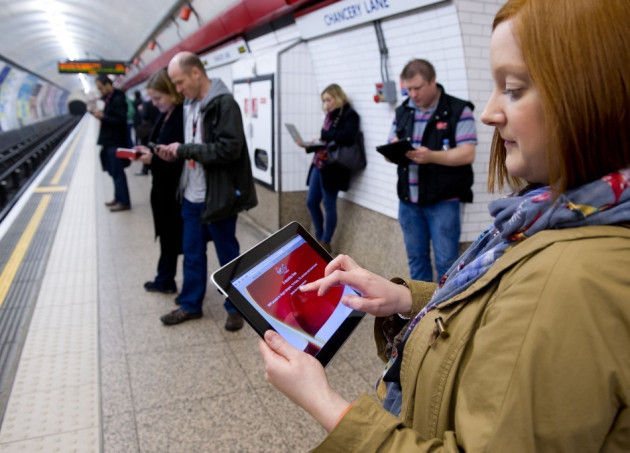 Originally planned to only be free during the summer - and as part of sprucing up our capital for the Olympic and Paralympic Games - the free Wi-Fi has been extended until the end of 2012.
From next year, tube travellers will still be able to connect to the Wi-Fi, but will only have access to a hub providing travel information and news headlines, unless they subscribe to Virgin Media's broadband and mobile services, then they will get full access to the web.
On 12 October the Wi-Fi network - which provides internet on station platforms but not in the tunnels - recorded its busiest ever day, with more than 1.1 million connections made.
Virgin Media claims that more than 660,000 people use the service on a regular basis, with Waterloo, Victoria, King's Cross and Oxford Circus (perhaps unsurprisingly) being the busiest stations for tweeting and browsing commuters.
IBTimes UK has used the network a number of times, and we're pleased to report that the service works as expected and we found a wide range of devices to connect quickly and return decent download speeds - handy when you're trying to update Facebook as the train leaves the platform.
When the network first went online back in June, The Mayor of London, Boris Johnson, said: "We need to ensure London is able to cement its position as Europe's leading digital city. Our partnership with Virgin Media to make Wi-Fi available on Tube platforms will be of tremendous benefit as building world class connectivity is critical to supporting new businesses and the jobs they create, especially in the high-tech and creative sectors."
Gareth Powell, London Underground's Director of Strategy and Service Development, said: "Wi-Fi at Tube stations will help us improve the journeys of the millions of people that use the Underground everyday at no cost to fare or taxpayers."