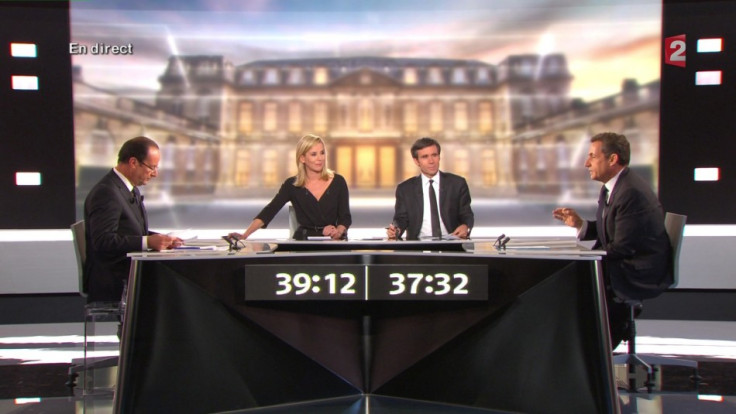 The much-awaited live television debate between socialist favourite Francois Hollande and French President Nicolas Sarkozy witnessed the two contenders trading fierce verbal fire.
Sarkozy called Hollande "a little slanderer" and accused him "telling a lie".
The TV debate was seen as Sarkozy's last chance to turn the tables on the opposition before the final run-off on Sunday.
"I will be a president for justice, because we are going through a serious crisis that hits in particular the most modest of us, the hardest working people, those who are the most vulnerable," said Hollande.
Accusing Sarkozy of failing to own up responsibility for the current state of the French economy, Hollande said Sarkozy was conveniently blaming it on the global economic crisis.
The French president shot back that France was the only country which had not experienced a recession since 2009. He claimed that France fared far better than any other European nation.
The only televised debate largely revolved around personal insults with the duo hurling accusations at each other and picking holes.
"With you it's simple, it's always someone else's fault. You always have a scapegoat. I protect the children of the republic, and you, you protect the most privileged," Hollande told Sarkozy.
Sarkozy replied bluntly: "The difference between us is that you want fewer rich and I want fewer poor."
When Sarkozy accused the socialist leader of lying, Hollande quipped: "There you go again. It really seems to be a leitmotiv which is meant to hurt me but in your mouth it just seems like a habit."
"Now you are adding slander to lies. You are unable to make an argument without being rude to your interlocutor," Hollande laughingly told Sarkozy.
The three-hour debate ended with the much expected Dominique Strauss-Kahn issue when Sarkozy accused the socialists of backing Strauss-Kahn for the IMF chief post until he was arrested on rape allegations.
Hollande tried to steer clear of the topic saying: "I knew you would bring him up. It wasn't I who appointed him to the IMF."