A French family of five was forced to jump off a cliff in Spain to escape raging wildfires, killing a man and his 15-year-old daughter.
The 60-year old died instantly after landing on rocks at the bottom of the 50 metre drop, while his daughter drowned. His wife was left in critical condition with a back injury, while two more children survived with non-life-threatening injuries.
The family was part of a group of more than 150 tourists who were forced out of their cars by the flames in the border town of Portbou.
However they were cut off by the flames and were trapped on the cliff, leaving them with no option but to jump, deputy mayor Elisabet Cortaba told Associated Press.
"The fire started to close in on them and they couldn't climb up or climb down," she said. "The only way out was to jump into the sea."
The family was pulled from the water by Portbou boaters and their identities were not released.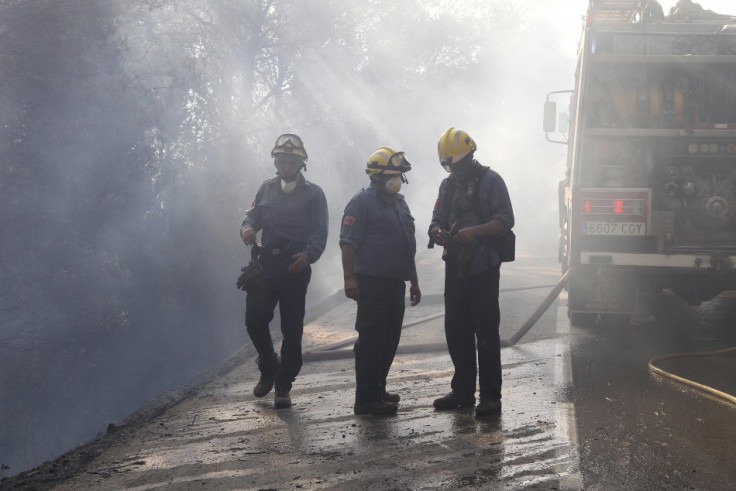 The death of the father and daughter brings the toll of the wildfires to four. Two other people were killed by the fires in Catalonia in northeast Spain, including one man who had a heart attack while trying to douse flames burning around his home.
The fires covered an area of 35 square miles and left hundreds of people injured. Many of the tourists that made it to the beach in Portbou suffered burns and broken bones in their dash to safety.
More than 1,400 people in the Catalonia region were forced to spend the night in shelters as the fires continued to burn. Train services in the region were suspended and cross border roads linking Barcelona with France were closed.
More than 80 teams of firefighters were dispatched to extinguish the blaze, while three specially equipped aircraft were made available to dump waters.
Fires can easily spread in the area, which is hot and dry. The famous Tramontana wind that blows through the area can exceed 100 mph and spread blazes very quickly.