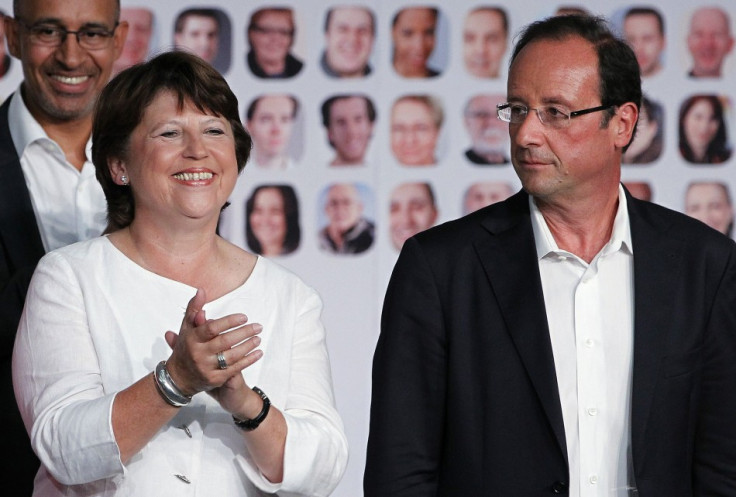 The race for the socialist presidential candidate has now truly started after an unprecedented open primary held on Sunday saw previous presidential runner up Segolene Royale ousted, leaving Francois Hollande, and Martine Aubry to fight for the chance to run against President Nicholas Sarkozy in next year's presidential election.
French polls had predicted Both Hollande and Aubry would be left to battle for a chance to run as president but the latest results proved the any of the two politicians could win as win a minority of vote left to be counted, François Hollande led with 39%of the votes, followed by Martine Aubry (31%), Arnaud Montebourg (17%), Ségolène Royal (7%), Manuel Valls (6%) et Jean-Michel Baylet (1%).
The primary was open to all registered voters who were willing to pledge support for 'the values of the left' and to pay one euro ($1.30) towards the cost of the election.
Despite 2 million votes casted in the first round of the Socialist primaries, none of the six candidates clinched more than half of the vote, heating up the race and announcing a tensed week, which will see the two potential candidate affront each other in a TV debate tomorrow.
The turnout for the country's first such primary was however hailed as a victory by both members of the socialist party and the press.
''Despite the obstacles, the challenges, our wonderful democratic bet of primaries has paid off beyond our most secret hopes,'' said Harlem Desir, the interim party chairman.
Mr Hollande, 57, long polled as favourite, had said he hoped for a ''clear and clean'' victory in round one and his aides had warned a score of less than 40 per cent would have been a disappointment.
The two candidates will now court the four runners-up for support, as their backing could prove crucial.
In third place was Arnaud Montebourg, 48, a rising politician who has won part of the public over by focusing on ''deglobalisation'' and calling for a crackdown on speculation by banks.
Segolene Royal, 58, surprisingly came fourth; bursting out in tears after the results came up. Her choice is now set to be scrutinised by the media as she will have to decide whether to back her former partner and father of her four children Hollande or instead chooses to support Aubry.
Tensions between Segolene, Aubry and Hollande mounted following her presidential candidacy in 2007, with many complaining Holland had offer little support while Aubry distanced herself from Royal after her failure to win the election which saw Sarkozy become president.
During a contest for the Socialist party chairmanship in 2008, which Aubry won, the two woman politician also accused each other of vote rigging, threatening the party's cohesion.
The press and the public are also set to be interested in who the former favourite socialist runner up Dominique Strauss-Kahn will choose to support.
The former IMF chief was forced out of contention after a New York maid accused him of sexual assault, which saw him charged, sent to jail and then put on bail.
Even though the charges have now been dropped, Strauss-Kahn's reputation in France and abroad has been tarnished by the scandal, and the politician is still embroiled in another sexual assault scandal, after a French writer Tristane Banon accused him of trying to rape her.
Strauss-Kahn was seen voting in the Paris suburb of Sarcelles, and revealed he had voted for Martine Aubry.
Without a presidential victory since 1988, the Socialists are aware the next presidential elections result could make or break their party.
Sarkozy has not yet announced his candidacy but is expected to wait until next year to do so, hoping the domestic economic climate will be more favourable. The President's popularity has suffered a sharp decline, in part due to the Eurozone crisis and a stagnating economy, announcing a tensed presidential race.