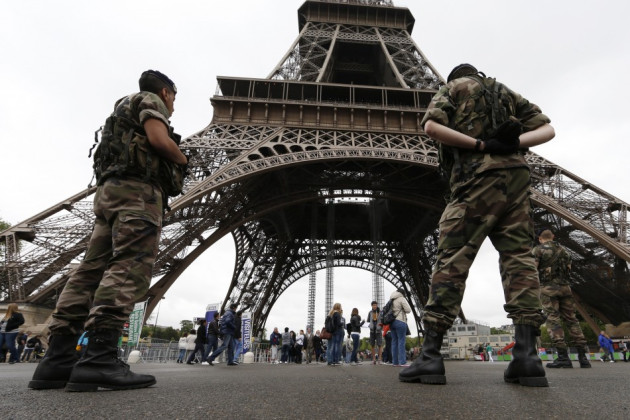 In an incident similar to the recent brutal killing of a British soldier in Woolwich, a uniformed French soldier was stabbed in his neck in Paris.
French police suspect a connection between the two incidents and have launched a manhunt for a North African man.
Private First Class Cedric Cordier was attacked from behind with a small-bladed knife or a box cutter when he was on patrol with two of his colleagues in the La Defense business area in the French capital. Soon after the attack, the suspect merged with the crowd and fled the crime scene.
Officials say the victim, who has not been named as yet, has lost a significant amount of blood, but he is expected to survive.
French Defence Minister Jean Yves Le Drian has confirmed that the solider was a victim of a targeted attack due to his profession.
Drawing a parallel between the Woolwich and Paris incidents, Christophe Crepin, spokesperson of the police union UNSA said: "You don't have to be a great observer to be able to see the similarity. We are in a place where a soldier and an individual comes to stab ... you don't have to be a great observer to see that people are taking inspiration from acts committed abroad, to reproduce them here."
He added: "We know that he [the suspect] is tall, athletic, we think he was wearing a white tunic and sneakers. Things are evolving ... everything has been recorded on video and we will find him."
President Francois Hollande said his government is exploring all options. "We still don't know the exact circumstances of the attack or the identity of the attacker, but we are exploring all options. There could be a link, but we will look at all the elements," said Hollande, who is in the Ethiopian city of Addis Ababa.
Interior Minister Manuel Valls echoed a similar sentiment, telling France 2 Television: "There are elements - the sudden violence of the attack - that could lead one to believe there might be a comparison with what happened in London. But at this point, honestly, let us be prudent."
French forces have been kept on high alert after the military intervened in the African nation of Mali in a bid to oust the Islamist militants who have reacted in a threatening manner.