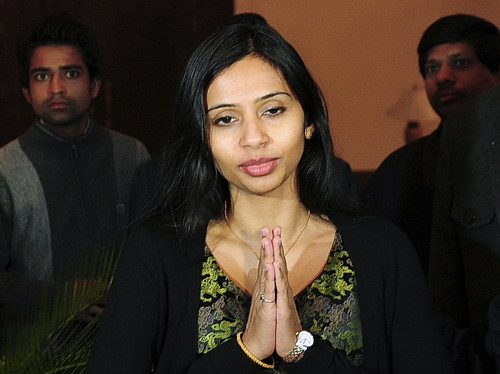 A fresh US-India diplomatic row is brewing as New Delhi expelled a director-rank American envoy hours after Indian diplomat Devyani Khobragade was asked to leave the US.
India, which has been pushing retaliatory moves on every step since the diplomatic row broke out with Washington, upped the ante by giving "little more than 48 hours" for the unnamed US attaché to leave the country.
It is believed the diplomat played a key role in evacuating the family of Khobragade's maid Sangeeta Richard two days ahead of Khobragade's arrest in New York.
Tensions were expected to cool down after Khobragade's departure from the US but the latest tit-for-tat measure by India suggests otherwise.
The diplomatic storm between Delhi and Washington was stoked by the arrest of senior Indian diplomat Khobragade, 39, in public followed by a strip search, a move described by Indian officials as "humiliating and barbaric". She was apprehended on charges of committing fraud in the US visa application for her housekeeper.
The US has expressed regret over Delhi's decision to repatriate the American diplomat but hoped bilateral relations would not suffer.
"We deeply regret that the Indian government felt it was necessary to expel one of our diplomatic personnel. I can confirm that a US official accredited to the [US] Mission in India will be leaving post at the request of the government of India," the US State Department spokesperson Jen Psaki told reporters.
Pskai hoped Delhi will take "significant steps" to improve ties with the US during this "challenging time".
Psaki added: "We expect and hope that this will not come to closure, and the Indians will now take significant steps with us to improve our relationship and return it to a more constructive place."
Meanwhile, Khobragade arrived in Delhi but did not address the media. Her father Uttam Khobragade has said the Indian envoy is "fine and happy to be home".