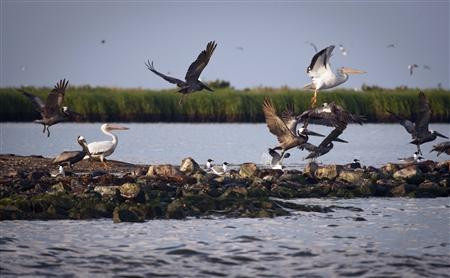 Shares in BP were up on the FTSE 100 in morning trading after the energy giant confirmed it had settled all claims with Anadarko Petroleum Co. relating to the Deepwater Horizon oil spill.
The oil spill, which lasted for around four months in 2010, cost BP billions of pounds and led to the resignation of its then CEO, Tony Hayward. The company also came under significant amounts of criticism from the U.S. government.
Anadarko had a 25 per cent interest in the ill-fated Macondo oil well and has agreed to pay BP $4 billion in a settlement agreement that will bring to an end legal claims between the two companies.
For its part BP has said it will put the $4 billion towards its $20 billion fund, established after the oil spill to pay for the cleanup operation and for the numerous compensation claims against it by individuals and businesses whose livelihoods were damaged by the oil spill.
In addition Anadarko will no longer be pursuing its allegation that BP was guilty of gross negligence, while BP will take Anadarko's 25 per cent share in the Macondo well.
Bob Dudley, Chief Executive of BP, commented, "This settlement represents a positive resolution of a significant uncertainty and it resolves the issues among all the leaseholders of the Macondo well.
"There is clear progress with parties stepping forward to meet their obligations and help fund the economic and environmental restoration of the Gulf. It's time for the contractors, including Transocean and Halliburton, to do the same."
By 10:15 shares in BP were up 4.77 per cent on the FTSE 100 to 436.25 pence per share.