The FTSE 100 passed a new historic milestone yesterday, breaking through the 7,000 level for the first time. It was driven by investors' optimism that Greece's financial crisis is under control and, more importantly, that interest rates will remain at record lows.
The index finished at 7,022.51, a 0.9pc gain that took it to a new peak, on Friday.
The 7,000 level is widely perceived as being psychologically important. The FTSE 100 first passed the 6,000 mark in 1998. It has now taken 17 years to breach the 7,000 barrier.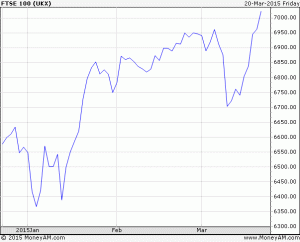 Last month the index passed its previous all-time high peak of 6,930, which was last reached in December 1999 just before the dotcom bubble burst.
Yesterday's market boost stems from Greece's pledges to draw up reform measures to secure bail out funds from the European Union.
But more significant was a statement from the US Federal Reserve Bank that suggested it will not increase interest rates over the next few months.
Other factors behind the rise include promising growth in UK wages and no sign from the Bank of England's Monetary Policy Committee that UK interest rates will rise over the next few months.
The backdrop to the FTSE 100 rise is a continuing era of loose money policy, whether in the form of low interest rates or quantitative easing. The rolling out of the European Central Bank's bond buying programme is the latest stage in this ongoing trend. These measures all help to stimulate stock markets.
"The world is being flooded with currency which is looking for a home and that home, generally speaking, is not in hard assets or new equipment but in financial assets, where returns are seen as better," said Jeremy Batstone-Carr, head of research at Charles Stanley, in an interview with the Daily Telegraph.