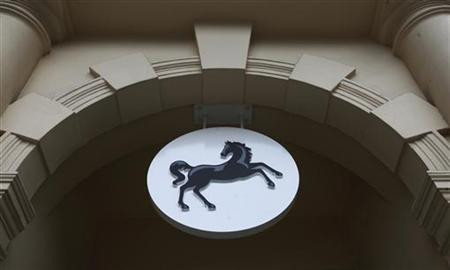 Shares in British banks were down on the FTSE 100 in morning trading as gloomy signs continued to appear in the global economy.
In the debt-ridden eurozone, Germany warned that there would be no quick solution to the crisis currently afflicting the single currency. Meanwhile France received a warning from ratings agency Moody's that it may be given a negative outlook on its credit rating.
On the other side of the world China confirmed that its GFP growth in Q3 slowed to 9.1 per cent, below the 9.2 per cent expected by analysts.
The gloomy economic news appeared to do little to help shares in Britain's banks.
By 08:50 shares in Lloyds Banking Group were down 2.30 per cent to 31.68 pence per share, RBS shares fell 2.58 per cent to 23.45 pence per share, Barclays shares declined 3.80 per cent to 169.65 pence per share and HSBC shares dropped 2.01 per cent to 512.50 pence per share.
Overall the FTSE 100 was down 1.38 per cent to 5,361.55.