Japan has pledged to spend close to $500m on clean-up efforts at the crippled Fukushima Daiichi nuclear power plant.
The Japanese government plans to spend a total of 47bn yen ($473m, £304m), Chief Cabinet Secretary Yoshihide Suga told a news conference. Around two-thirds of the funding will be channelled into the construction of a large underground wall of frozen earth, around the number one and number four reactors, to prevent contaminated groundwater from leaking into the sea.
Authorities will also put in place a water treatment system, designed to bring down radiation levels in the contaminated water, as part of the clean-up programme.
The money will come from the Japanese government's 350bn yen (£2.64bn, €2.27bn , $3.54bn) reserve fund, which was set up to cover natural disasters and other emergencies.
"The world is watching to see if we can carry out the decommissioning of the Fukushima nuclear power plant, including addressing the contaminated water issues," Prime Minister Shinzo Abe told cabinet ministers ahead of the government's decision.
The announcement comes days after plant operator Tokyo Electric Power (Tepco) revealed that radiation levels had risen 18-fold in the pipes and containers that hold radioactive water, washing over melted reactors at the power plant.
Critics argue that Tokyo's 2020 Olympic bid was the driving force behind the funding announcement. The International Olympic Committee will decide later this week whether Tokyo - located 230km from the disaster site - can host the 2020 Olympic Games.
Tokyo, Istanbul and Madrid have bid to host the 2020 Olympics, and the winner will be announced by the International Olympic Committee on 7 September.
However industry minister Toshimitsu Motegi denied the Olympic bid had spurred the government's decision, while Tokyo Governor Naoki Inose insisted the Fukushima crisis would not affect his city's bid.
"Regarding food and water in Tokyo there is absolute safety and the data is available," Inose said. "As far as hosting the games, the situation in Fukushima will not affect Tokyo."
The Fukushima Timeline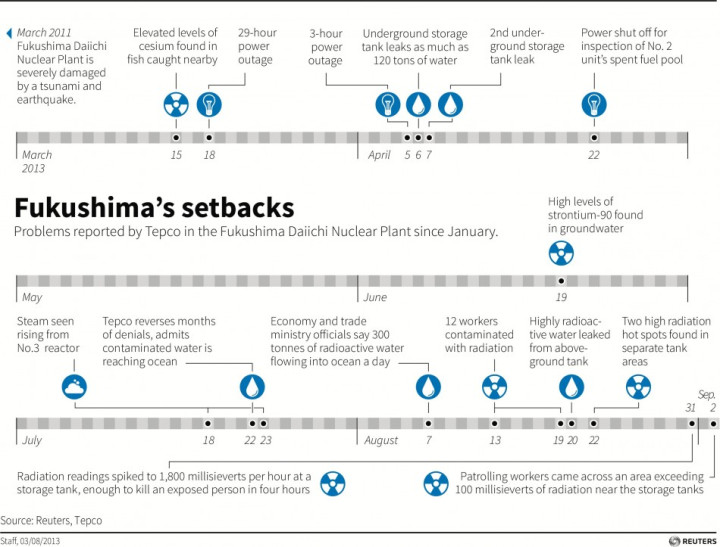 Last week Motegi likened Tepco's attempts to deal with the leaks to a game of "whack-a-mole", and said the government was going to step in.
Tepco has built a series of tanks to contain radioactive water in Fukushima, most of which are believed to be nearly full. The company pumps 400 tonnes of water through the site daily to keep the crippled reactors cool.
In addition, about 400 tonnes of contaminated groundwater flows through the site daily. Recently, Tepco revealed that groundwater was leaking into the Pacific, bypassing an underground barrier built to contain it.
Tepco president Hitome Hirose has said the company may bring on board foreign decommissioning experts to help deal with the toxic water leaks.
The March 2011 earthquake and tsunami knocked out cooling systems at the nuclear power plant, triggering fuel meltdowns that led to a radiation leakage. It remains the worst nuclear accident since Chernobyl in 1986.