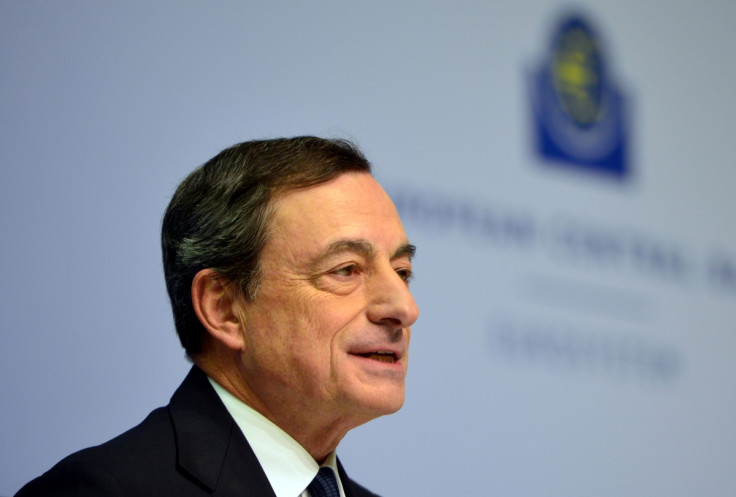 The euro gained ground against its major rivals on Thursday (20 October), after the European Central Bank (ECB) kept its benchmark interest rate unchanged at 0.0%, as widely expected by economists.
Following the conclusion of its Governing Council meeting, the ECB added it would extend the monthly €80bn (£71.7bn) quantitative easing (QE) programme until the end of March 2017, while interest rates on marginal lending and deposit facilities will also remain unchanged at 0.25% and -0.40% respectively.
Soon after the announcement, the euro moved up against the pound and the dollar, gaining 0.51% against the former to trade at 0.8977p, and rising 0.18% against the latter to fetch $1.0994.
Naeem Aslam, chief market analyst at Think Markets UK, said the ECB's decision made it very clear the bank wanted to keep interest rates low by adopting a very dovish stance.
"The ECB is firmly going to follow the blueprint of the Fed," he said.
As for the QE, the ECB is happy to continue with this for now [but] the bank is clearly less wary of deflation now and this is of significant difference as compared to their previous statements."
Meanwhile, having touched a week-high against the dollar in the previous session, sterling retreated on Thursday, despite positive data from the retail sector.
By mid-afternoon, the pound was 0.21% and 0.29% lower against the dollar and the euro, trading at $1.2257 and €1.1161 respectively.
Earlier, figures released by the Office for National Statistics had shown retail sales in Britain held steady in September, rising 4.4% year-on-year and falling only slightly short of forecast for a 4.9% increase.
However, August's figure was revised upward to 6.6%, meaning retail sales in the quarter were 5.4% higher than in the corresponding period in 2015, the largest increase since August 2014.
"Consumer spending therefore remained supportive of overall GDP growth in the third quarter, with no clear signs yet of the Brexit vote having put a serious dent in spending," said John Hawksworth, chief economist at PwC.
"Retailers, as we saw in the press with the recent Marmite row, will be seeking to handle the effects of costlier imports as currency hedges expire."
Across the Pond, the dollar gained 0.16% against the yen, exchanging hands at ¥103.61. The greenback rose 0.60% against the Canadian dollar, trading at CAD$1.3187, but was sharply lower against its Australian counterpart, losing 0.76% to AUD$1.3045.