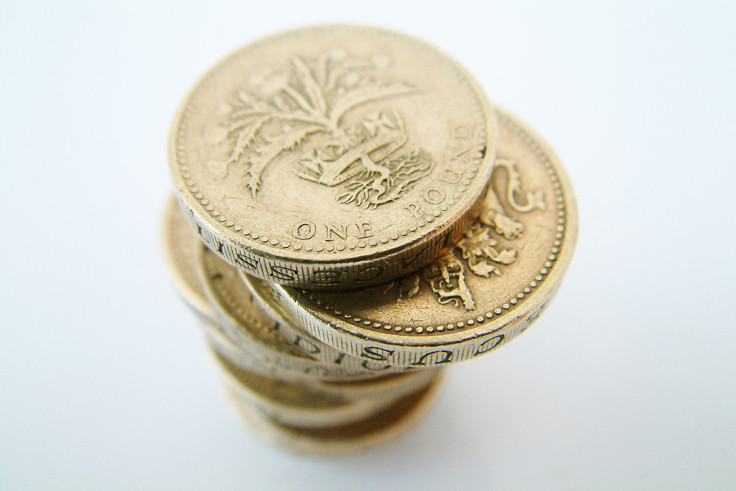 The pound on Wednesday (17 May) after data showed that while Britain's labour market remains in good health, wages are falling behind the inflation rate.
Having tumbled to a five-week low against the euro on Tuesday, sterling was 0.39% and 0.14% higher against the dollar and the euro respectively, trading at $1.2967 and €1.1670.
The gains came as report from the Office for National Statistics showed the unemployment rate in the quarter through to March stood at 4.6%, the lowest level since 1975.
However, the news was less positive on the pay front, as basic salaries excluding bonuses grew 2.1% in the three months to March, in line with expectations but lower than the 2.2% recorded in the previous quarter.
When adjusted for inflation, however, average weekly earnings fell 0.2% year-on-year when excluding bonuses and climbed 0.1% from a year earlier when bonus are taken into account. With inflation rising at the fastest pace since September 2013 in April, households' budgets could be squeezed even further.
The pound hasn't traded over $1.30 since last September but analysts believe it could soon breach the threshold again.
"The pound/dollar rate has now spent about four weeks in a relatively tight consolidation," said Fawad Razaqzada, market analyst at Forex.com.
"If the key $1.30 handle breaks decisively then there is nothing significant in terms of prior reference points until around the $1.3335-$1.3345 area. So, there is a possibility for a sharp rally if and when $1.30 breaks."
Chris Saint, senior analyst at Hargreaves Lansdown, added: "The $1.30 level is again coming into sight, with the dollar weighed down by worries that US President [Donald] Trump could find it trickier to forge ahead with his intended economic reforms amid reports of interference into an FBI investigation.
The latter is the latest issue to trouble Trump, after it emerged he directly asked the former FBI director, James Comey, to drop an investigation into Michael Flynn, the former national security adviser.
The growing FBI scandal, along with Trump's alleged decision to share classified intelligence with Russia during a meeting at the White House last week, weighed heavily on the dollar. The greenback slid 0.20% and 0.85% against the euro and the yen respectively, trading at 0.8996 euro cents and ¥112.16.
The dollar was also down 0.39% against the Swiss franc, trading at CHF0.9821, but gained against his Canadian and Australian counterparts, rising 0.23% against the former and 0.14% against the latter, to trade at AUD$1.3506 and CAD$1.3625 respectively.
"It's too early to speculate what will happen to Trump at this stage," said Kathleen Brooks, research director at City Index.
"It's too early to speculate what will happen to Trump at this stage. however any new revelations could trigger a sharp spike higher in volatility and a deeper sell off for risky assets. This is no ordinary Presidency, and it could be the biggest threat to global risk prices this year."