President Donald Trump reportedly requested FBI Director James Comey to shut down the federal probe into his former national security adviser, Michael Flynn, back in February.
The White House quickly rejected the report but acknowledged a "conversation" had occurred between Trump and Comey.
"I hope you can let this go," the president allegedly told Comey during the Oval Office meeting, according to a memo written immediately afterwards on the day after Flynn was forced to resign, two sources who read the memo told The New York Times.
"I hope you can see your way clear to letting this go, to letting Flynn go," Trump said, according to the memo. "He is a good guy. I hope you can let this go."
Trump maintained that Flynn had done nothing wrong, the memo said. Comey simply replied: "I agree he is a good guy."
The newspaper says that the memo gives the clearest proof that the president has attempted to influence investigations into connections between his associates and Russia.
Comey reportedly told senior FBI officials and close associates that the memo existed. The Times reported that while it did not view a copy of the memo, parts of it were read by one of Comey's associates to a Times reporter.
The ousted FBI director created similar memos, some classified, about every phone call and meeting he had with Trump.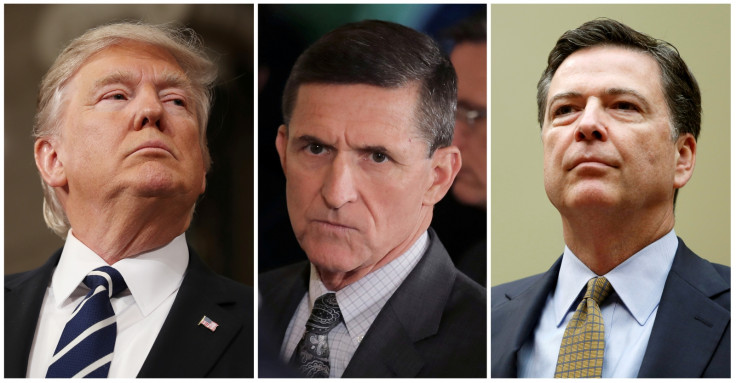 The White House issued a statement which opposed the version of events detailed in the memo. "While the president has repeatedly expressed his view that General Flynn is a decent man who served and protected our country, the president has never asked Mr Comey or anyone else to end any investigation, including any investigation involving General Flynn," the statement said.
"The president has the utmost respect for our law enforcement agencies, and all investigations. This is not a truthful or accurate portrayal of the conversation between the president and Mr Comey."
Trump fired Comey on Tuesday (9 May)—a decision the president claim he made in connection with the Russia investigation, The Guardian noted. "And in fact when I decided to just do it, I said to myself, I said: 'You know, this Russia thing with Trump and Russia is a made-up story,'" Trump told NBC News.
In testimony to the Senate, acting FBI Director Andrew McCabe said: "There has been no effort to impede our investigation to date."
However, the Times noted that McCabe was discussing the broader investigation into potential collusion between the Trump campaign and Russia. The FBI's probe into Flynn is a different case.
The memo's existence comes as the White House deals with a new Russia-related controversy. A report by The Washington Post revealed Trump shared sensitive classified information regarding the Islamic State (Isis) with Russian diplomats during a meeting at the Oval Office a day after Comey was sacked.
Trump has confirmed the report, but has claimed it is his "absolute right" to divulge the information in the sake of fighting terrorism.