An extra 1,200 troops have been deployed to work at the Olympic Ggmes as the scale of the shortfall left by security company G4S becomes ever larger.
Culture secretary Jeremy Hunt announced that the troops, who had been put on standby, would be deployed as the government "does not want to leave anything to chance".
The latest influx of troops follows the deployment of 3,500 soldiers earlier in July, and pushes the total number of military personnel patrolling the games past 18,000.
The decision to call in more troops will heap further embarrassment on G4S, whose chief executive, Nick Buckles, has been fiercely admonished by the home affairs select committee because his company failed to train sufficient personnel for the games.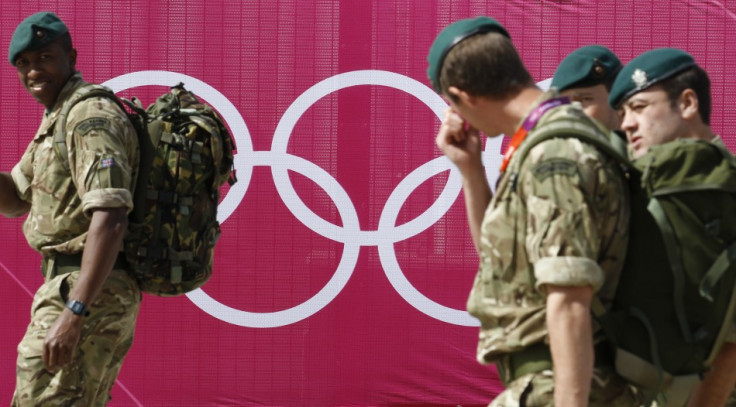 In his disclosure to the committee, Buckles revealed that he did not know how many staff would be ready for work when the games begin, or how many of those who have received training will actually turn up for their shifts.
'Olympics on track'
Reaction from soldiers to their last-minute Olympics secondment has been mixed. One soldier, whose leave has been cut short by the games, told IBTimes UK that frustration over the shambolic security arrangements was rife in the forces.
But Hunt said that London 2012 was "very much on track".
"Opening ceremony rehearsals have started and over 4,000 athletes have arrived in London. Their response to the [Olympic] Village and the venues has been hugely positive.
"Jacques Rogge, president of the International Olympic Committee, has praised our plans, saying that the games 'have all the elements necessary for success'."
Hunt said it was better to have troops on the ground so that they could "swing into action immediately" if necessary and insisted that Olympics security arrangements have been the subject of rigorous long-term planning.
"The committee, chaired by the prime minister, discussed venue security. Security staffing levels at venues have been kept under constant review.
"The government continues to have every confidence that we will deliver a safe and secure games."
Frustration
Paul Deighton, chief executive of London 2012 organising committee Locog, told the Guardian that G4S's failure to supply enough guards was "hugely disappointing" but insisted that the substitution of temporary private security guards by permanent soldiers would bring tangible benefits.
Deighton said: "You can't be absolutely certain about anything with a temporary workforce so we simply want to substitute a temporary workforce with a permanent, reliable workforce that we get with the military.
"We have an excellent plan. It remains in place and is working very well. What has happened is the private, man-guarding aspect of the force turned out not to be reliable, and we have substituted it with the much more reliable and better trained military force. So the net outcome is you end up with an even better security force."