G7 Threatens Tougher Measures on Russia over Ukraine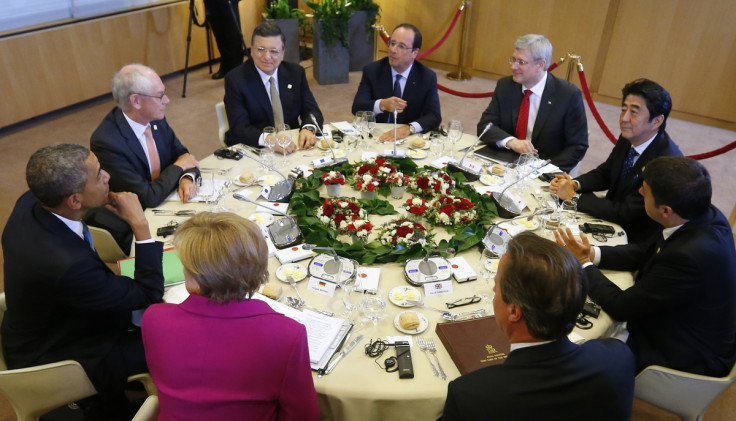 The heads of the G7 nations have issued a fresh warning to Russia that they will impose tougher measures if Moscow does not help ease the tensions in eastern Ukraine.
"We stand ready to intensify targeted sanctions and to consider meaningful additional restrictive measures to impose further costs on Russia should events so require," a statement from the two-day summit in Brussels read.
The conference of the world's leading industrialised nations taking place without Russia for the first time in 17 years, as the group was reduced from G8 to G7 after Russia's annexation of Ukrainian territory -- Crimea.
The G7 leaders said: "Russia's illegal annexation of Crimea, and actions to destabilise eastern Ukraine are unacceptable and must stop. These actions violate fundamental principles of international law and should be a concern for all nations."
The event -- attended by the leaders of the US, Germany, France, Britain, Canada, Japan and Italy -- was originally set to take place in Sochi but later relocated to the Belgian capital following Russia's expulsion.
German chancellor Angela Merkel, who is chairing the second day of the summit, told reporters: "We cannot afford a further destabilisation in Ukraine. If we do not have progress in the questions we have to solve there is the possibility of sanctions, even heavy sanctions of phase 3 on the table."
The G7 demanded Moscow monitor and control the flow of weapons to pro-Russian separatists across its border. It also urged Russia president Vladimir Putin to cooperate with the newly-elected Ukrainian president Petro Poroshenko.
Putin will hold talks with some of the G7 leaders on the sidelines of the D-Day anniversary gathering in Paris later this week.
© Copyright IBTimes 2023. All rights reserved.