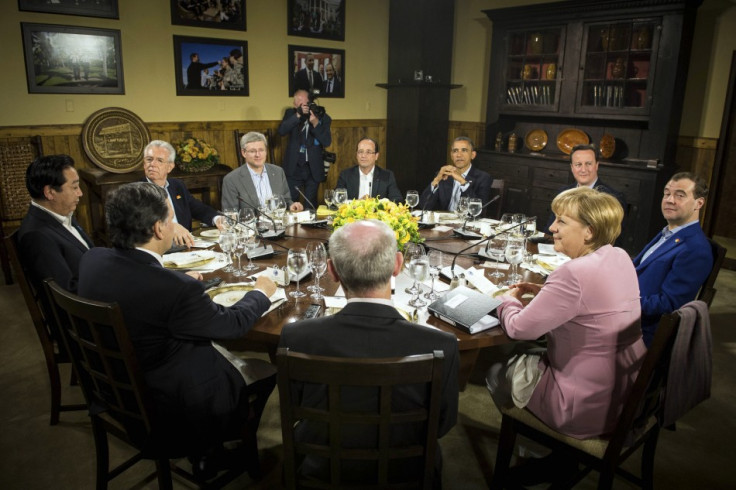 As leaders of the world's richest countries gather for the G8 summit at Camp David, the eurozone crisis seems to dominate the discussions.
The summit, hosted by US President Barrack Obama, is being attended by Prime Minister David Cameron, German Chancellor Angela Merkel, newly-elected French President Francois Hollande, Japanese Prime Minister Yoshihiko Noda, Canadian Prime Minister Stephen Harper and the new Russian Prime Minister Dmitry Medvedev.
After an initial meeting, Obama and Hollande acknowledged the need for reforms in the European economy in order to avert a global crisis.
"[Tackling eurozone crisis] is an issue of extraordinary importance, not only to the people of Europe, but also to the world economy. We are looking forward to a fruitful discussion later this evening and tomorrow with the other G8 leaders about how we can manage a responsible approach to fiscal consolidation that is coupled with a strong growth agenda," Obama said minutes before the meeting, reported Reuters.
A 35-minute meeting between Cameron and Hollande threw up differences of opinion over financial transactions tax also known as Tobin tax. The need for a tax on the financial transactions is one of Hollande's election promises which Britain is opposing.
"On the financial transactions tax, I'm very clear; we are not going to get growth in Europe or Britain by introducing a new tax that would actually hit people as well as financial institutions. I don't think it is a sensible measure. I will not support it," Reuters quoted Cameron as saying.
German Chancellor Angela Merkel who is consistently supporting the need for tough fiscal discipline will find herself to be a loner. Her alleged suggestion that Greece should go in for a referendum on whether the people would want the nation to stay in the single currency bloc seems to have created quite a stir among the leaders. Berlin was quick to refute the allegation.
At the same time, according to reports, European authorities are preparing for a possible crisis situation if Greece is expelled from the Union.
"Today there are in the European Central Bank, as well as in the Commission, services working on emergency scenarios if Greece shouldn't make it. A Greek exit does not mean the end of the euro, as some claim," the Telegraph quoted European Union trade commissioner Karel De Gucht as saying.
Other issues including bringing stability to the global economy, tackling the political turmoil in countries like North Korea, Iran and Syria are expected to come up in the meeting during Saturday.
Most of the G8 countries' leaders will be heading for Chicago immediately after the meeting for a Nato summit on Sunday and Monday.