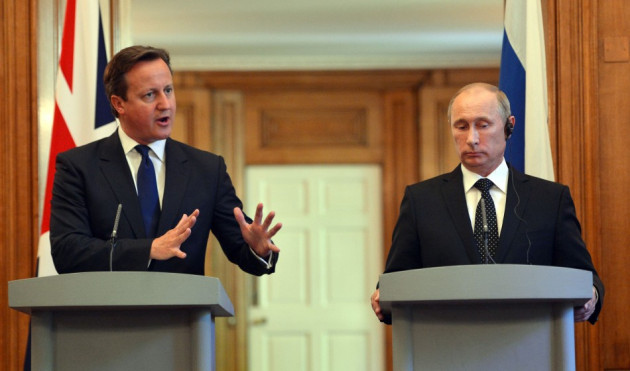 The Syrian civil war is likely to dominate the G8 summit as the world's most powerful nations meet for talks in Northern Ireland.
David Cameron held discussions with Russian President Vladimir Putin on the eve of the summit and promised to mend differences over the intensifying Syrian conflict.
The summit of the Group of Eight (G8) will take place at Lough Erne, County Fermanagh, for two days.
Leaders from Canada, France, Germany, Italy, Japan, Russia, the UK and the US will participate in the summit.
Cameron, who is already in Northern Ireland to welcome the leaders, is also hoping to raise other global issues.
The British prime minister will hold talks with President Barack Obama on the sidelines of the summit. Obama will also hold private discussions with Putin in a bid to resolve the two-year-long Syrian conflict.
Russia, Syria's closest major ally, has staunchly opposed the proposals suggested by other leading global powers aimed at resolving Syria's internecine conflict.
Russia's stance has opened a deep rift with the US, which widened when Moscow decided to send missile shipments to Syrian President Bashar al-Assad's regime. Meanwhile Washington recently announced that the US was considering arming the Syrian rebels - a suggestion completely repudiated by the Russian government.
"I think you will not deny that one does not really need to support the people who not only kill their enemies, but open up their bodies, eat their intestines, in front of the public and cameras. Are these the people you want to support? Is it them who you want to supply with weapons?" Putin asked during to a joint press conference with Cameron.
Acknowledging that the western nations and Russia remain far apart on the issue, Cameron said he wants "a meeting where we can look each other in the eye, cut through the obstacles and the opposition and generate the political will to solve the problems we face".
Apart for Syria, the emergence of moderate cleric Hassan Rohani as the winner in the recent elections in Iran is also expected to be discussed.
Ahead of the summit, Obama will address a public gathering at the Waterfront Hall centre in Belfast.
"He[Obama] will deliver remarks and engage with the people of Northern Ireland and highlight the hard work, dialogue and institutional development they have undertaken together to advance peace and prosperity," said a White House spokesperson.