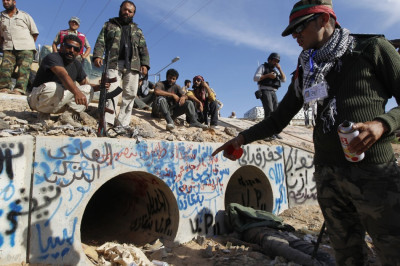 After 42 years at the helm of his oil-rich nation, Muammar Gaddafi, the Arab world's longest-ruling leader, has been reported dead, with his body now moved to Misrata, Libya.
Officials from the NTC have confirmed Gaddafi's death, with reports saying the former dictator died from injuries sustained in the battle against the transitional government's forces.
Libyan Prime Minister Mahmoud Jibril has announced the Libyan government's chairman Mustafa Abdel Jalil will declare the liberation of Libya later on Thursday, or on Friday at the latest , according to Reuters.
"We have been waiting for this moment for a long time. Moammar Gadhafi has been killed," Jibril said at a news conference in Tripoli.
Reports also suggest that Jibril is also requesting that Algeria hand over the Gaddafi family members who have taken refuge there, which include Col Gaddafi's wife and three of his children Aisha, Muhammad and Hannibal.
Gaddafi's son Mutassim was also found dead in Sirte on Thursday, a commander of the new regime forces told AFP.
"We found him dead. We put his body and that of (former defence minister) Abu Bakr Yunis in an ambulance to take them to Misrata," Mohamed Leith told the AFP.
There are now reports that Saif al-Islam Gaddafi, was spotted trying to flee Sirte in a convoy, but was rapidly encircled by the Libyan fighters coming under attack from the anti-Gaddafi troops.
The news of Gaddafi found in Sirte came as latest reports located him in the desert, near the frontier with Algeria, but despite their surprise Libyans inside and outside of their country gathered in the streets to celebrate the death of their former leader and the beginning of a new era for Libya.