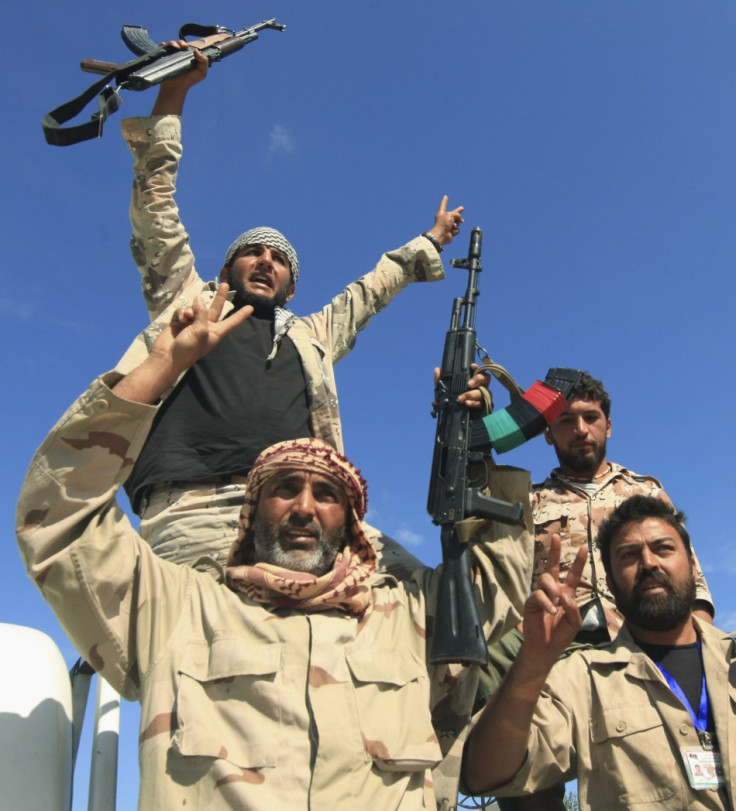 Conflicting reports saying that former Libyan leader Muammar Gaddafi has been captured are still surfacing, but while it is impossible to confirm whether the colonel has been captured, injured or dead, reports from Libya show signs of jubilations in Tripoli and Sirte.
NTC official Abdel Majid has told Reuters that Col Gaddafi was found in a convoy which Nato warplanes attacked, as he tried to escape the city of Sirte, now in the full control of the NTC forces.
"He was also hit in his head," the official told Reuters. "There was a lot of firing against his group and he died."
Anti-Gaddafi radio Voice of Free Libya (VOFL), based in Benghazi also reported the arrest. "The confirmed news is that he has been arrested but it is unknown in which condition," the station said.
News agency Reuters reported Gaddafi was shot in both legs by NTC fighters but reports coming in from the Libyan town of Sirte suggest Gaddafi has died of wounds sustained in armed combat, while others say he died as a result of his injuries.
Meanwhile the BBC reported that Mohammed, a young fighter said he had found the colonel hiding in a hole in the ground in the city of Sirte, simply saying "Don't shoot don't shoot".
CNN are also reporting the unsubstantiated rumours of Col Gaddafi's capture but stressing that the claims remain unconfirmed, while al-jazeera has posted a report titled Muammar Gaddafi killed in gun battle.
The AFP has also reportedly obtained a mobile phone image apparently of Col Gaddafi during his arrest, showing a resembling the colonel, wearing blood-soaked clothing and with blood across his face.
NATO, on the other hand, has not yet confirmed Col Gaddafi's arrest and the UK's Ministry of Defence could not confirm whether Col Gaddafi was in the convoy. "It was targeted on the basis that this was the last of the pro-Gaddafi forces fleeing Sirte," a spokesman said.
However, a spokesman for NATO confirmed that a NATO aircraft on Thursday morning struck two pro-Gaddafi military vehicles near Sirte. "At approximately 08:30 local time (GMT+2) today, Nato aircraft struck two pro-Gaddafi forces military vehicles which were part of a larger group manoeuvring in the vicinity of Sirte," Nato spokesman Colonel Roland Lavoie said in a statement.
Meanwhile NTC's Abdul Hakim Al Jalil, commander of the 11th brigade, reportedly said that Gaddafi spokesman Moussa Ibrahim has also been captured, Reuters is reporting.
Pro-NTC TV is also reporting that Col Gaddafi's son, Mutassim, and former interior minister Abdullah al-Senussi were captured along with Gaddafi, but reports have not been independently verified
Gaddafi's capture came as the NTC took control of Sirte, the Colonel's birth-town.
The Capture of both Sirte and Gaddafi comes as good news for the NTC leaders, who are now expected to start forging a new democratic system and slowly plan for elections.
Meanwhile reports from Tripoli suggest the city has erupted in celebrations as residents have welcomed the capture of their former leader and scenes of jubilations were also reported in Sirte.
Gaddafi, is wanted by the International Criminal Court on charges of ordering the killing of civilians, and was toppled by rebel forces in August after 42 years acting as the head of state of the oil-producing North African state.