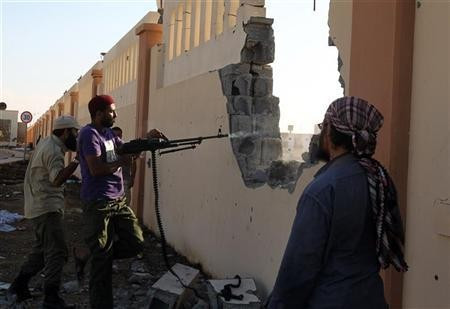 Revolutionary forces have captured fighters close to Mutassim Gaddafi during fierce fighting to liberate the coastal town of Sirte, a Libyan spokesman said.
But reports that Gaddafi's son himself had been captured so far remain unconfirmed, despite the fact that the news prompted celebratory gunfire in the liberated towns of Tripoli and Benghazi.
Jalal el-Gallal, a spokesman for Libya's ruling National Transitional Council said his office had called commanders in the besieged town of Sirte and "so far as we are concerned there is no information that Mutassim Gaddafi has been captured."
NTC forces have been closing in on pro-Gaddafi fighters in Sirte over the past days and weeks. The coastal town, birthplace of Col Gaddafi, is now the final battleground in the fight to secure the liberation of Libya.
Libyan officials have said they believe Mutassim Gaddafi - formerly Libya's national security adviser - and other high-level former regime figures are hiding in Sirte and that is the reason for the fierce resistance.
NTC Chairman Mustafa Abdul-Jalil, Libya's de facto leader, said he expected to declare total victory in less than a week. Humanitarian organisations, including the International Committee of the Red Cross, have warned that thousands of civilians are still trapped inside Sirte and face a shortage of food, clean water and medical supplies.
The whereabouts of Gaddafi remain unknown, and the former ruler faces an uncertain future as a fugitive from justice. The International Criminal Court issued a warrant for his arrest on 27 Jun. 2011 for crimes against humanity.