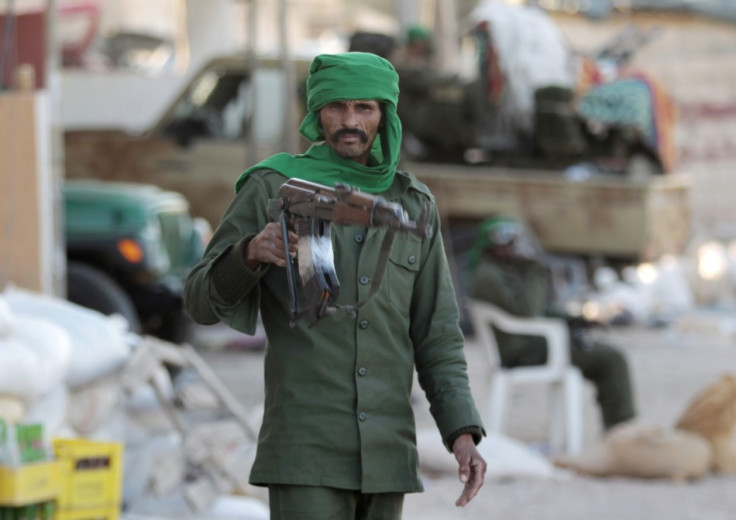 As ICC chief prosecutor Luis Moreno Ocampo yesterday announced that the ICC is investigating accusations that Gaddafi is using rape as a weapon in the conflict, Nato Secretary General Anders Fogh Rasmussen said the alliance would continue its campaign in Libya for as long as it takes to defeat Col Gaddafi's forces.
Speaking at a Nato defence ministers' meeting in Brussels, Mr Rasmussen said that the alliance had to prepare for a future without Col Gaddafi, but that the organisation would not be putting troops on the ground after the conflict was over. In a statement released by the Alliance, Rasmussen concluded that "everyone at the table agreed: we have made clear progress. We have prevented a massacre, we have preserved innocent lives, and we have prepared the ground for a political settlement".
However, while Nato officials stressed their continuing commitment to the operation they also stressed that they do not envisage a leading role for the Alliance in a post-conflict Libya.
Since Nato extended its air operations for another 90 days from the end of June and increased the scope of its UN-mandated campaign to protect civilians last week, air strikes targeting Gaddafi's buildings and government areas have been more and more recurrent.
Despite leaders from the coalition forces being optimistic and the alliance insisting that Gaddafi's days are now numbered, on a visit to Cairo, the chairman of the US Joint Chiefs of Staff, Adm Mike Mullen, conceded that progress in Libya was "very slow" and said it was a challenge for anybody to know when Col Gaddafi would leave.
In a message broadcast on Tuesday, Col Gaddafi vowed to remain in the country "dead or alive", and said Libyans would defeat their enemies. He added that his troops' were ready to launch a new attack and appeared to be keeping his promise as yesterday reports from the Libyan city of Misrata said at least 14 rebels were killed in operations to push back pro-Gaddafi positions to the east and west.
Dr. Khaled Abu Falgha, a spokesman for Misrata's Hekma hospital, said it was the bloodiest day in a week in the besieged city. More than 1,000 people are believed to have been killed since the fighting began there in February, including 686 registered residents of the city, he added.
Health officials and a rebel spokesman later confirmed that more than 20 others were wounded when government forces responded with heavy artillery fire.
Liam Fox, the UK defence secretary also expressed his increasing frustration with the slow progresses of the western-led military campaign, and told Nato ministers, in Brussels, that they should contribute more.
He told the group of Nato ministers: "I firmly believe that we must intensify our pressure on the regime and it is imperative our military commanders have the assets and capabilities they need to do the job all of us around this table have asked of them: to defeat those regime elements which continue to threaten civilians. Let me be frank. Nato is not just about military hardware. It is also about values. And those values are not an optional extra."
While the rebels control large parts of eastern Libya and a string of towns in the western mountains, near the border with Tunisia, as well as Misrata, they are still far from Tripoli, where the regime still has a tight grip on the population.
As the Libyan leader remains defiant and assures he will not leave his position, Nato is being pressured into finding a way to precipitate the fall of the Libyan leader. Following the limited advances that have been made in the last 30 days, it becomes increasingly clear that bombardments alone will not enable Nato to shift the conflict in favour of the rebels. While the organisation said it had struck six command and control centres, two anti-aircraft guns, a radar system and a vehicle storage facility, many government buildings have also been targeted and Tripoli is slowly disappearing under the air strikes.
Moreover, as the air strikes and bombardments have increased, many critics outside of the regime start agreeing with the Libyan government as it says that the escalated aerial campaign against Gaddafi has now clearly gone far beyond the mandate of protecting civilians.
As yesterday the alliance confirmed it will not put troops on the ground during or after the conflict, how can it ensure that Gaddafi will be defeated?
Coalition forces might turn to a more diplomatic strategy as China, Russia and the UN are now pushing for the regime to agree to a transitional phase where the Libyan people would decide who should be in charge. However with Gaddafi now facing an investigation by the ICC, as chief prosecutor Mr Moreno-Ocampo said there is evidence the leader is using rape as a weapon in the conflict, it would be difficult for coalition countries to allow him to stay in power. Besides if arrest warrants were to be issued then it would be hard for the leader to hold talks and travel as countries which are signatories of the Rome treaty would have to arrest him. On the other hand, as accusations of violations of human rights by the rebel fighters were also brought to the attention of the ICC, should they be charged, what would happen to their regime?
Almost four months into the conflict Nato insists that the operation has made clear progress and that they have prepared the ground for a political settlement. The Libyan regime and the rebels are however still not talking and both camps refuse to bulge. The rebels have made it clear they will not stop until Gaddafi's demise, while the latter insists he will not step out of power. On top of fighters from both camps being dead or wounded, civilians have also been greatly affected, a humanitarian crisis is now threatening to affect a vast majority of the country and according to the ICC Gaddafi's forces have still been able to rape hundreds of woman, while on the other hand the rebels have imprisoned innocent African migrants and disrespected basic human rights, so in those conditions it rather complicated to see what kind of progresses have actually been made.