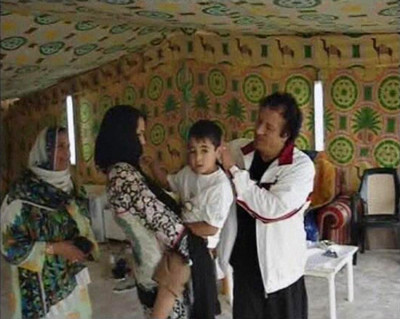 Col. Moammar Gadhafi, the longest-ruling leader in Arab history, and his once-glorious family have been scattered and left to their various fates.
Gadhafi married twice. His first wife, Fatiha, was a schoolteacher, according to the BBC. They separated after six months and had a son, Muhammad. His second wife, Safia al-Gaddafi, is the mother of his seven other sons. Gadhafi met his second wife, then Safia Farkash, a former nurse, in 1969, when he was hospitalized with appendicitis following the revolt. He was also said to have adopted two children, Hanna and Milad.
His daughter, Ayesha Gadhafi, is described as the "Claudia Schiffer of North Africa" by the Arabic press. The Telegraph reports that she is a lawyer, is married to Ahmed al-Gadhafi al-Qahsi, a cousin and army colonel, and is the mother of three children. She was also a part of the team of lawyers who defended former Iraq President Saddam Hussein in the war crimes trial.
Gaddafi's eight's children have supported their father throughout the conflict and while some of them such as Khamis, Mutassim and Saifn al-Arab reportedly died during the war, the others managed to escape. Libya's previously royal family have now fled to Algeria.
The Algerian Foreign Ministry, in an earlier report, confirmed that Gadhafi's wife Safia, his daughter Ayesha and his sons Hannibal and Mohammed crossed the border on August 22. Further, the Algerian Ambassador to the United Nations, Mourad Benmehidi, defended the decision, telling the BBC that in the desert there is a "holy rule of hospitality."
Start the slideshow to view rare photos of the Gadhafi family.