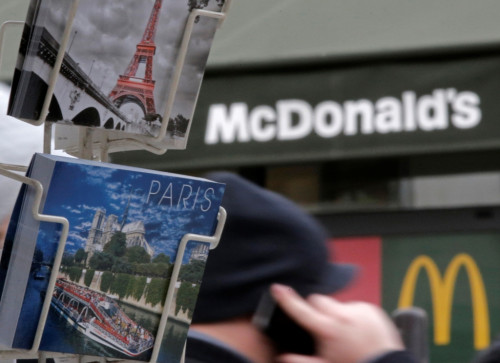 McDonald's, the world's largest restaurant chain by revenue, has reported better-than-expected global sales at established restaurants for January after gains in Europe and China helped compensate for weak figures from the US.
McDonald's said on 10 February worldwide sales at restaurants open for at least 13 months rose 1.2% in January. That gain was above Wall Street analysts' average estimate of a rise of 0.7%, based on data from Consensus Metrix.
However, in the US, same-restaurant sales, a closely watched gauge of performance, fell 3.3%, a deeper decline than the 1.6% drop that analysts expected.
The company blamed the cold weather that gripped large parts of the US but analysts said McDonald's customers were pinched by the slow-moving US economy.
McDonald's did better elsewhere. Sales were up 2% in Europe, which edges out the US as its biggest revenue market. Analysts had forecast Europe to rise 1.3%.
Sales rose 5.4% in the Asia Pacific, the Middle East and Africa (APMEA) region, helped by growth in China. The markets had expected the APMEA to rise 2%.
France and Britain were standout markets in Europe, while Germany trailed.
McDonald's stock finished 1.11% lower at $94.86 on 10 February in New York.
TheStreet Ratings rated McDonald's stock as a "buy".
McDonald's president and chief executive Don Thompson said in a statement: "Throughout the McDonald's System we are committed to elevating the customer experience and enhancing our customers' relationship with our brand.
"We are intent on improving our performance by building on our customer-driven strategies and the fundamental strengths of our proven business model."
Analysts said the mid-to-low income consumer continues to be frugal. The company's strengths can be seen in multiple areas, such as its revenue growth, growth in earnings per share, increase in net income and expanding profit margins.
"We feel these strengths outweigh the fact that the company has had lacklustre performance in the stock itself," according to TheStreet Ratings.
McDonald's in 119 Countries
McDonald's entered a new Southeast Asian market for the first time in 20 years last weekend.
The firm on 8 February opened a restaurant in Ho Chi Minh City, Vietnam's biggest city, where it would compete with rivals Burger King and KFC.
With the addition of Vietnam, McDonald's operations expanded to 119 countries.
McDonald's, which is battling tougher competition and a jaded global economy, warned last month that January sales would be weak.