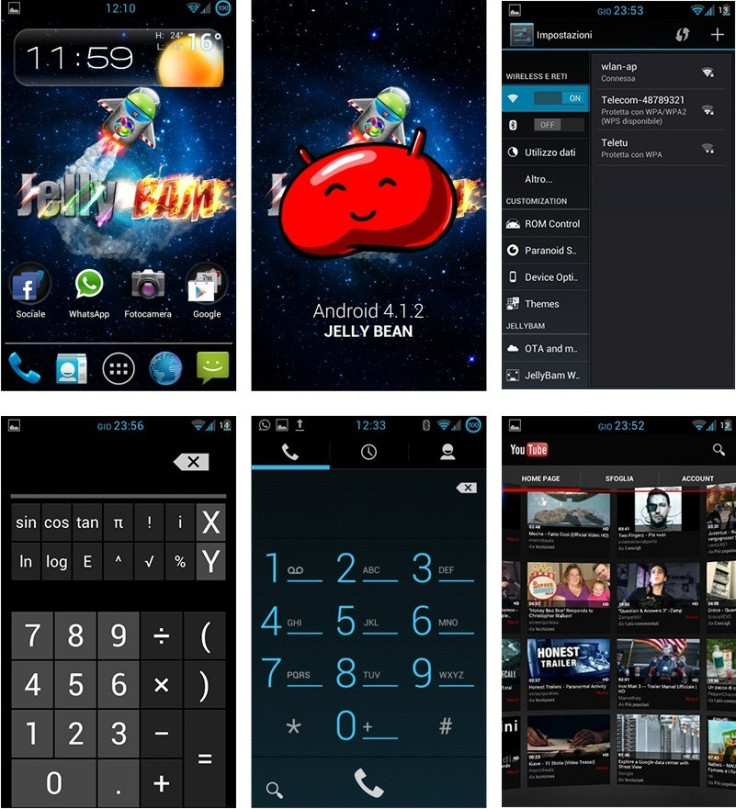 Galaxy S3 I9300 users can now enjoy the latest Android 4.2 Jelly Bean apps on their phones with the release of Android 4.1.2 Jellybam ROM. The new Jelly Bean ROM brings a host of exciting apps based on the leaked Android 4.2 UI (user interface) that surfaced ahead of the launch of Nexus 4.
The ROM is a custom release for Galaxy S3 that ports all the latest apps for Jelly Bean, while discerning users still await an official stock release of Android 4.2 firmware from Samsung. Samsung smartphone fans are in for a double treat, as the Galaxy S3's predecessor - the Galaxy S2 I9100 - received the Android 4.2 apps package via the same custom ROM a few days ago.
Android 4.1.2 Jellybam ROM with Android 4.2 Apps Features:
Built from source
Overall features of AOKP, CM10 and PARANOID
Custom JellyBam Settings with preferences
Tons of customisations
Themes and Mods in JellyBam style
Aromainstaller
Latest CM10/AOKP vsync patched Kernel
Latest Siyah kernel
Google apps from android 4.2
New Malidriver
Exynos HWComposer
Lockscreen with x8 Custom app targets
New optimus 4x circle lockscreen
Ability to customise color and alpha of the optimus lockscreen
Gallery, Camera and KeyBoard from 4.2
Clock from Android 4.2
Google play music from Android 4.2
Sony Walkman music player
Bravia Engine libraries
Bravia XLoud audio libraries
Paranoid Android settings
Per-App-DPI Changer
Per-App-Color
Custom home action and hardware button in lockscreen
Quick/Long click on weather and clock actions
JellyBam Panel in settings app
Mass storage mode
OTA Update via UpdateMe App
You can keep your ROM up to date with latest Tweaks, Mods, Themes via UpdateMe app
GAPPS included, no need to flash anything else
Gallery support Picasa share
Apollo Music Player (Themed)
Album app from Sony Xperia
Quick SMS
AwesomBeats Lib
A good combination of stability and performance (Thanks Siyah Kernel + Personal mod)
Bluetooth hacked for send/receive APK
YouTube hacked with 3G+WiFiHD 720p PlayBack
Init.d scripts
JellyBOOM script
Media quality tweak
3G and GPS Tweak
RAM Optimization +Multitasking
SmoothScrolling tweak
V6 Supercharger included
lot of Themes available in UpdateMe
TouchWiz 5 Launcher
Apex and Launcher Home
AC!D Technology (Thanks to r-ikfoot)
*Beats Audio by Dr Dre*(Powerful bass)
Clearbass Sound by Sony*(Clear Bass)
Xloud by SonyEricsson*(higher sound volume and clearer sound on speaker)
Dolby Digital Sound*(Equalizer enhancer bass setting and Surround setting)
Surround Sound*(Deeper bass and reduction of bass distortion plus Eq setting support)
JellyBam custom Bootanimation
Center Clock/No clock/Right Clock
Volume Panel (Volume Rocker allows you to change ALL volume levels in one Menu)
Lockscreen Weather
Lockscreen Vibration on/off toggle
Performance/Color Settings
Brightness Control Slider
Multilang
JellyBam Style
Key Points to Note
Enable USB debugging mode by navigating to Settings > Applications > Development and check the USB debugging option.
Ensure that your phone battery is at least 85 percent charged to avoid unexpected device shutdown (due to battery drain) while flashing the Android 4.1.2 Jellybam ROM.
Users are advised to back up apps, important personal data and settings to avoid risk of data loss while installing the Android 4.2 apps package with Jellybam ROM on your Galaxy S3 I9300. Be advised, Samsung KIES will not recognise your phone after installing the Jellybam ROM, as it is a custom ROM firmware update, and hence it is recommended that you back up your data manually using the steps in this guide rather than using the KIES' automatic backup.
Make sure that your phone is factory unlocked and rooted with ClockworkMod Recovery (CWM) pre-installed on it.
Perform a Dalvik Cache wipe before continuing from the recovery mode.
The instructions provided in this guide are meant for reference purpose only and do not cover any warranty claims involving device damage or issues arising out of using the Android firmware update. Users are advised to proceed at their own risk.
How to Install Android 4.2 Jelly Bean Apps with Jellybam ROM on Galaxy S3 I9300
Step 1 - Download Android 4.1.2 Jelly Bam ROM with Android 4.2 Apps Package and Google Apps for Galaxy S3 I9300 on your computer.
Step 2 - Connect and mount your Galaxy S3 USB mass storage on your computer with an USB cable.
Step 3 - Copy the downloaded Android 4.1.2 ROM zip and Google Apps files to the root folder on your SD card.
Step 4 - Power off your phone and disconnect its USB cable from the computer.
Step 5 - Press and hold Volume Up, Home and Power buttons together until the phone boots into CWM Recovery Mode.
Step 6 - In CWM Recovery, do a full data wipe first. Then navigate to flash zip from SD card option and hit the Power button to select it.
Step 7 - Tap the Power button again and click "choose zip from sd card".
Step 8 - Use volume keys to navigate to the Android 4.1.2 ROM zip file that you copied to your phone's SD card and select it by pressing the Power button. Confirm the ROM installation on next screen and the installation procedure should begin.
NOTE: Repeat the step for installing Google Apps as well.
Step 9 - Once the ROM is installed, hit Go Back and tap Reboot System Now in the recovery menu. The phone will reboot now and the first boot might take about 5 minutes to complete. So, leave it alone.
Your Galaxy S3 I9300 is now successfully updated to Android 4.1.2 Jelly Bean with Android 4.2 Apps custom installed on your phone. Go to Settings > About Phone to verify the firmware version installed.
[Source: Team Android]