The newly unveiled Galaxy S4 Active, with an IP Code rating of IP67 for dust and water protection, runs with a 2,600mAh powered battery that handles the Snapdragon 600 chip featuring a quad-core Krait 300 processing unit, running at clock speeds up to 1.9GHz, paired with Adreno 320 graphics unit.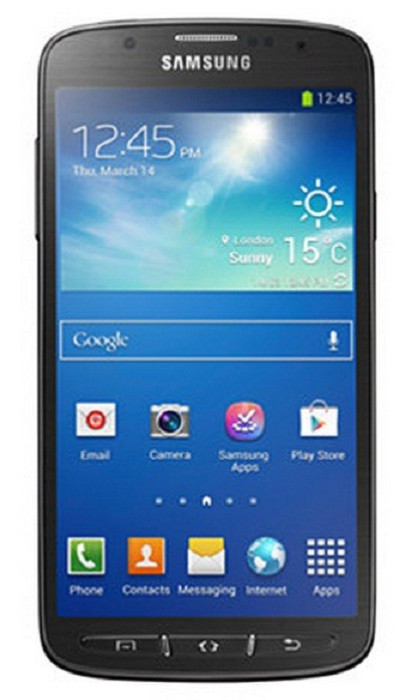 This is the similar processor that powers the international (LTE version) Galaxy S4 bearing model number GT-I9505.
Even though the Galaxy S4 and the S4 Active use similar size battery but both differ in terms of battery performance owing to the fact that LCD screens drains more battery than the AMOLED units.
GSMArena has recently conducted a range of battery tests revealing the battery endurance capacity of the Galaxy S4 Active.
In the talk time battery test, the Galaxy S4 Active ran for 16 hours and 40 minutes, which is almost one hour and 20 minutes less than the talk time offered by the Snapdragon 600 variant of Galaxy S4 (talk time, 18:03 hours). Unfortunately, The S4 Active could not beat Huawei Ascend Mate was who was the winner in the talk time test by surviving for 25 hours and 12 minutes.
But the Galaxy S4 Active performed better when compared to the Exynos 5 variant of Galaxy S4 which lasted for only 11 hours in the same test. Besides, the S4 Active was much ahead of its rivals such as Sony's Xperia Z and Xperia ZL, Nexus 4, HTC One, One X+, Galaxy S3 and several other smartphones in the list.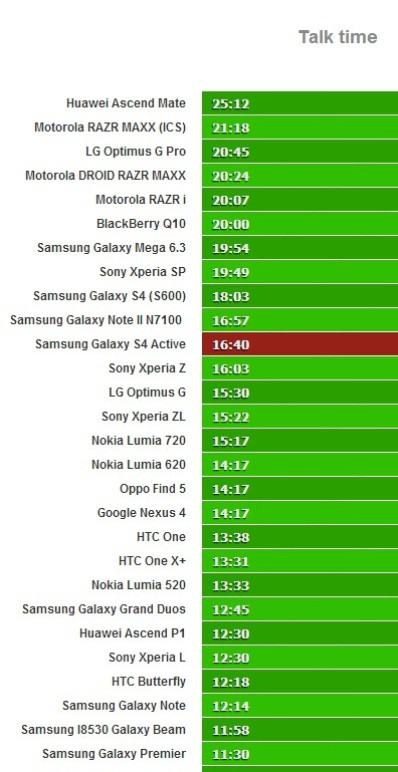 As the test result suggests, the S4 Active delivered a web browsing life for seven hours and 35 minutes. There is a marginal difference between the web browsing life of S4 Active and the Galaxy S4 snapdragon 600, which lasted for seven hours and 24 minutes in the test.
The HTC One which uses the similar quad-core Snapdragon 600 processor (1.7GHz) grabbed the first position in the test, with a web browsing life of close to 10 hours (nine hours and 58 minutes).
In the battery test for video playback, the Galaxy S4 Active survived for seven hours and three minutes, which is approximately five hours and 27 minutes less than the video playback time by the Galaxy S4 Snapdragon 600 model. The ICS version of Motorola RAZR MAXX was the winner in the test by offering a video playback time for 16 hours and 35 minutes.
Finally as the endurance rating suggests the Galaxy S4 Active can run for 57 hours including an hour each of calling, web browsing and video watching.