The Gambian government has charged 37 people for organising protests, which authorities deemed as illegal, on 14 and 16 April. More than 50 youths and members of the opposition were arrested after taking to the streets of the capital Banjul, calling for electoral changes and the stepping down of President Yahya Jammeh, who has been in power since 1994, the opposition United Democratic Party (UDP) said.
It is feared that UDP secretary Solo Sandeng and two others died while they were held in detention. Rights groups have so far confirmed only Sandeng's death, which triggered further demonstrations culminating in the arrest of UDP leader Ousainu Darboe.
Among other things, the Banjul High Court charged 19 protesters with assembling unlawfully, rioting, inciting violence and interfering with vehicles. The cases have been adjourned until 27 April, with the defence expected to file bail applications on 21 April, Reuters reported.
"The charges are laughable and are in contravention of the constitution of the Gambia. Our judiciary is one weakest judicial body in the world," Gambian activist and journalist Sainey M K Marenah told IBTimes UK. He has been living in Senegal since he was accused by the Gambian government of publicising "false news" in 2014.
Sandeng's name did not appear on the list of those charged. Unconfirmed reports also alleged that another four people – Fatoumata Jawara, Nogoi Njie, Fatou Camara, Modou Ngum – have gone missing since they were arrested.
"The Gambian government should produce in court all protesters arrested April 14 and 16 or explain what happened to those who are missing," Human Rights Watch's West Africa researcher Jim Wormington told IBTimes UK.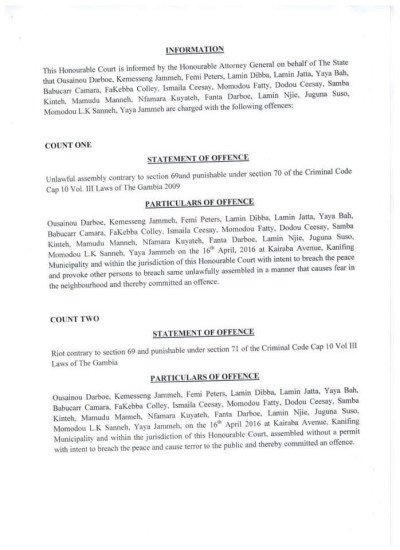 The government's reaction to the demonstrations sparked international outrage, with the United Nations (UN) and rights groups calling on the Gambian government to launch an independent investigation on the deaths and arrests.
In the only public address on the matter so far, the government accused the protesters of gathering without obtaining a permission from the police. Information minister Sherrif Bojang also said he could not confirm the deaths in detention or the arrests of the protesters.
The Gambian Embassy in London has not replied to a request for comments on the accusations.