Game of Thrones star Emilia Clarke has graced the cover of Harper's Bazaar's December issue, embracing her romantic side in deep red lipstick and florals.
The 31-year-old actress rose to prominence as Daenerys Targaryen in the HBO fantasy series back in 2011, but looks a far cry from the peroxide-blonde character, showcasing her naturally brunette glossy locks in the ethereal shoot.
Clarke wows on the beautiful cover in a blush pink dress by Dolce and Gabbana, oozing old Hollywood glamour with her smoothly-curled hair and wine-stained lips.
Another artistic shot from the editorial shoot shows her climbing a spiralled staircase among leafy trees wearing a voluminous baby pink ruffled gown by Giambattista Valli Haute Couture.
A third image shows Clarke's more toned-down side in a an elegant floral print cream dress by Bottega Veneta styled with pink Christian Louboutin strappy ribbon sandals.
Berkshire-born Clarke speaks about her rise to fame in the accompanying interview, offering her opinion on going nude in some scenes of GoT.
She said: "I'm starting to get really annoyed about this stuff now because people say, 'Oh, yeah, all the porn sites went down when Game of Thrones came back on... There are so many shows centred around this very true fact that people reproduce. People f**k for pleasure—it's a part of life."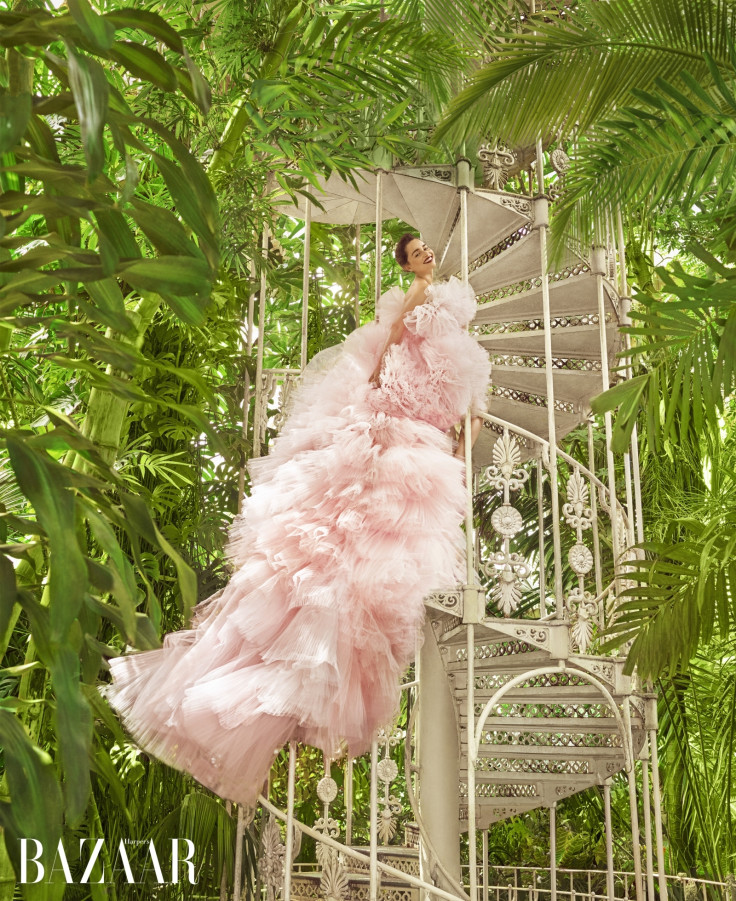 The star also touched on not having the "right look" as an actress, explaining: "It pushed me into another casting type; forced me to be an actor. Instead of playing Juliet and doing the light, airy stuff, I would be the granny who cracks wise, or a down-and-out hooker who has seen better days."
Little has been revealed about Clarke's current relationship status, presumably keeping a low profile after her high-profile romance with comedian and filmmaker Seth MacFarlane ended after just six months.
On finding the one, Clarke said: "There is 'the one' for particular parts of your life—you change as you get older. So when I was in my teens, there was 'the one' for my teens, for sure, and then, you know, there's 'the one' for the next time of your life. There's this Buddhist philosophy that says you can only really understand yourself through your interactions with other people."
Read Emilia Clarke's full interview in Harper's Bazaar's December Issue on newsstands from 28 November.