Gangster Squad: Ruben Fleischer's Maverick Cops Not Untouchables (FILM REVIEW)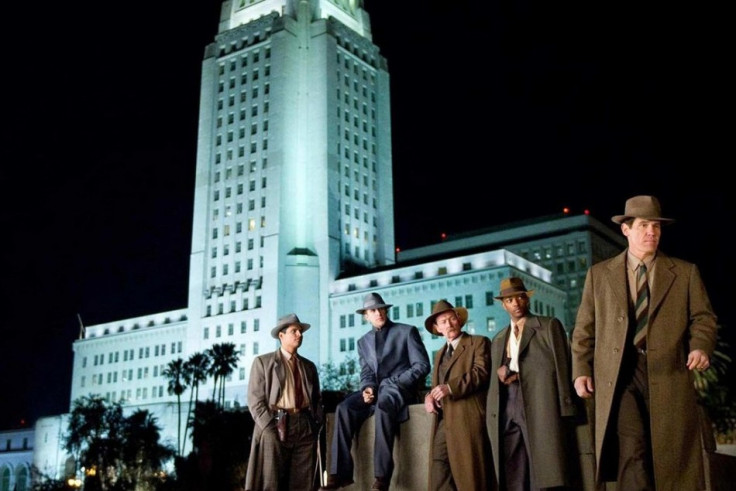 Reshoots. It's not a word that breeds confidence in a movie, suggesting that the finished product wasn't strong enough first time around. In the case of Gangster Squad it was an unusual necessity - a shoot-out scene in a cinema having been chopped, following the real-life gun massacre in a cinema in Aurora, Colorado in July.
Not that the movie has lost its bite because of that omission. It's hard to accuse a film that begins with a man chained between two revving cars and a fight between multiple opponents of not being violent enough.
Wearing its "true story" status on its sleeve, Will Beall's screenplay takes its lead from Paul Lieberman's series of articles entitled Tales from the Gangster Squad. It deals with very similar themes as the videogame LA Noire - following a man who has returned from the war, only to find the way of life he was defending changed forever. In the case of Sgt John O'Mara (Josh Brolin), the problem is violent New York gangster Mickey Cohen (Sean Penn), who sees Los Angeles as his to take.
With Cohen intimidating or killing any witnesses, and with cops and politicians in his pocket, a police chief (Nick Nolte, on barely coherent form) decides to set up a rogue outfit willing to do whatever it takes to break up the gangster's operation. Cue the recruitment of Ryan Gosling's slacker, Anthony Mackie's tough beat officer, Robert Patrick's sharp hooter, Giovanni Ribisi's brain and Michael Peña's sidekick.
What follows is an odd mix of action spectacular, mobster caricature and cartoon violence. Deeper character explorations are attempted along the way, as a society that has welcomed a lot of seasoned killers back from overseas is psychoanalysed and the "good" guys wonder if what they're doing is really right. But these are throwaway lines, barely given time to be spoken before the next stylised sequence.
And yet, for all that, the film still entertains. Director Ruben Fleischer (Zombieland) has painted a colourful retelling of events, with some early humour to lighten the tone. LA is also beautifully shot by Academy Award-winning director of photography Dion Beebe and the location work is excellent. Had they woven some of the weightier issues into the guns-and-gangsters framework, it could have been untouchable.
VERDICT: 6/10
Midnight Son: Scott Leberecht's Disinterred Vampire Movie is Full of Bite [FILM REVIEW]
© Copyright IBTimes 2023. All rights reserved.