Just like doing up your top button without wearing a tie, drinking tea without a splash of milk or compiling a JLS greatest hits playlist without including the seminal Everybody In Love, there is an unnaturally weird feeling attached to the notion of agreeing with Roy Keane.
The hip-shooting nature of the former Republic of Ireland dog-walker's punditry would make John Wayne blush as he violently lurches from one head-scratching opinion to another during his role with ITV Sport.
Though when not attempting to unearth the hatchet on Sir Alex Ferguson, and therefore straying away from fulfilling a vendetta against the former Manchester United manager, Keane's direct words occasionally make sense.
Following Real Madrid's 2-1 Champions League first leg defeat to Juventus, Keane's analysis that the reigning champions had played with 10 men such was the performance of their record signing Gareth Bale was not just his most striking view yet, it resonated like never before.
If Turin represented Bale's very own Italian Job, the former Southampton youngster forgot the loot and got lost in the underground sewage system before careering into the side of the Alps in a ball of flames. After a harrowing second season in Spain, his Real career threatens to go a similar way.
After a 20-goal, trophy-laden first season in Madrid, the Spanish media have reacted to the slightest sign of complacency like a pack of Keane's hungry dogs. Newspapers' post-match ratings have bordered on the defamatory and the rumour mill has been in overdrive. Chelsea, Manchester City and Manchester United have been linked with ending Bale's Real nightmare.
Bale out of his depth
Bale's performance in the Juventus Stadium mirrored those that accompanied his 24-game stretch without being on the winning side for Tottenham Hotspur. The Welshman looked lost, out of his depth and needing an escape route.
The 25-year-old made the fewest passes of any Real player who started the game, while only two players who began the game made fewer touches. In the second half, as Real chased a second equaliser, even Iker Casillas had possession of the ball more often than Bale before his 88<sup>th minute removal.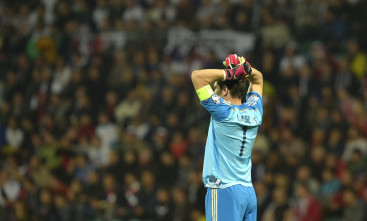 Statistics might often form the meat and bones of the social media voyeur's opinion but on this occasion, it paints the picture of a player whose poise is wilting and who is becoming an increasingly over-indulged member of the first-team squad.
At this juncture, you would expect the unfathomable proposition of Bale leaving La Liga and returning to the Premier League to be firmly dismissed. Even in a modern-day world of knee-jerk decisions, it seems improbable Bale would consider giving up on his club without a fight.
The problem is there are few signs that Bale's status can improve sufficiently to see him remain at Real in the long term. Supporters have begun to revolt, as have the media.
Key figures such as Cristiano Ronaldo appear frustrated with his contribution, while there is also the concern that with his place in Carlo Ancelotti's side not secure, president Florentino Perez is only phone call away from sanctioning the purchase of another global superstar; thereby knocking Bale down the pecking order.
With such fine margins dictating the success of his Real career beyond this season, it seems like the right time for Bale to cut ties with the Bernabeu club. Chelsea, City and United will ensure the bump down to the earth is not too mighty for football's most lucrative single asset.