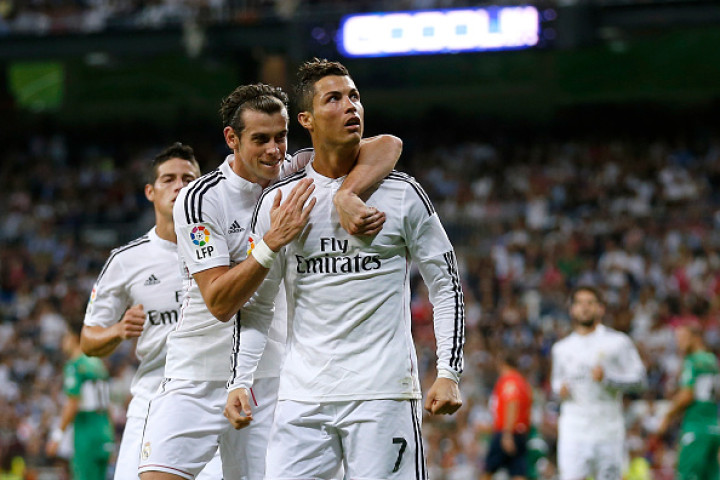 Real Madrid star Gareth Bale has urged his club teammate Cristiano Ronaldo to snub a chance to rejoin Manchester United.
The Portuguese international was the fan favourite after spending six years at Old Trafford. He left the 20-times English champions in 2009 and made a switch to the Spanish capital club.
Ronaldo has been constantly linked with a move to United in the past few years and it is still being reported that he will leave Real and Join the Premier League giants next summer. Red Devils manager Louis van Gaal admitted that it is possible for his side to sign the forward, but says Real will not allow him to leave Santiago Bernabeu.
"He's obviously a player we wouldn't want to see leave. Of course I want to see him stay at Real Madrid. He's shown what a world-class player he is year after year scoring the goals he has," Bale explained.
The 29-year-old claims that he is happy with his current employers. However, Ronaldo had earlier said that he is delighted with the affection shown by United fans even after his departure to Real.
"I have always said that I have a family at Manchester United. But at this moment, I am very happy here [at Real Madrid] and I want to stay here," Ronaldo said.
"But it is very important and I felt very happy about knowing how much the people from Manchester love me. This is a sign that I left good memories there and that they love me. I fell that they really appreciate me. I am very happy about that."
Meanwhile, United striker Robin van Persie has urged his Netherlands teammates to bounce back in their upcoming clash against Kazakhstan after suffering defeat at the hands of the Czech Republic.
"We really need to win. We are now in this situation, and everyone is well aware that the game should be won," Van Persie stressed.
"If you look around you in football, then almost anyone from anywhere can win or lose. It's not as easy as it is often written. This is a fact that we have seen in the Czech Republic."