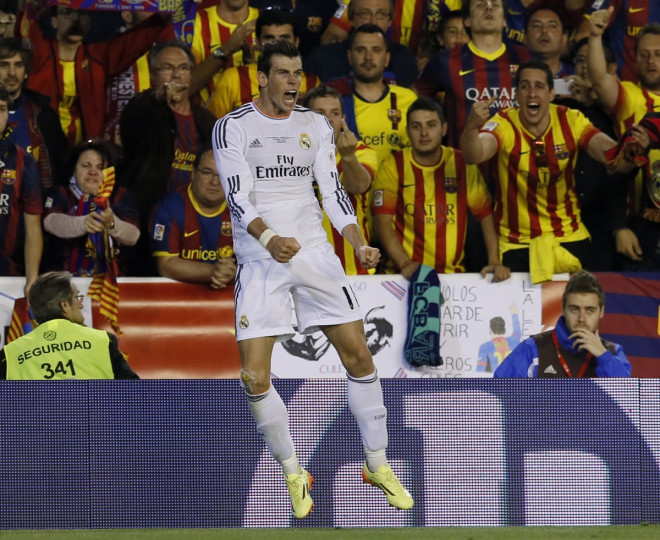 So the €101m man has begun to justify the world record-breaking fee that Real Madrid paid for him, after winning the battle of the Galacticos with a strike of truly epic brilliance.
Gareth Bale scored one of those goals that mark the career of a footballer last night in the Copa del Rey final. When his team needed it most, the former Spurs winger galloped towards goal, taking a jet-heeled detour through the coaches' technical area, to leave Barca defender Marc Bartra in his wake before slotting the ball beneath the Catalans' goalkeeper Pedro Pinto.
Little wonder Bale was crowned 'Prince of Wales' by the Spanish press in the wake of Real's victory. If Prince William was watching on TV in New Zealand, he could have had little complaint.
Yet, for Barca's own big-money signing, a Brazilian playboy who appears to bear all the trappings of a superstar, the tale was very different. Neymar endured a night to forget, unable to make the contribution expected of a player who cost €57m.
While Bale, taking up the mantle of Cristiano Ronaldo, lit up the match with his direct running and powerful, inventive shooting, Neymar was shackled for large periods. The former Santos player, who has been castigated in Spain for scoring a "mere" 14 goals this season, tried everything, but nothing worked out.
The Brazilian started the game in lively fashion, forcing Isco into a rash challenge which earned the Malagueno prodigy a yellow card within three minutes. But over time, his effect was diluted, and he began to get frustrated as Real's vice became ever tighter.
Eventually, in the 89th minute of the match, Neymar had the chance to make his own historic contribution. Barca's Number 11 eluded the clutches of Real's defence, but unlike Madrid's Number 11 his accuracy deserted him at the crucial moment and he hit the post. He will have to wait a little longer to capture the hearts and minds of the Catalan nation.
Bale, though, faces no such problems. He has silenced any doubts about his ability to handle the transition from London to La Liga, and has more than justified his status as the world's most expensive player - if such a feat can ever be achieved.
And whatever happens in the La Liga title race and the Champions League semi-final against Bayern Munich, The Cardiff Express has given his team the confidence to make their dreams of La Decima reality.