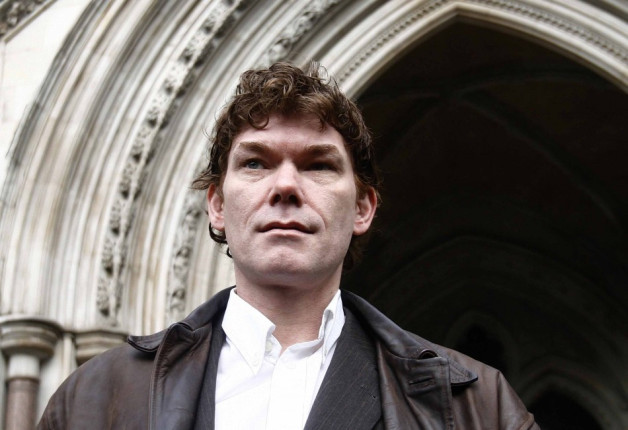 A decision on whether the British computer hacker Gary McKinnon will be extradited to the US is to be announced by the Home Office.
Home secretary Theresa May is likely to put an end to a 10-year-long extradition battle fought by 46-year-old Glaswegian McKinnon, who has already admitted to accessing US government documents and could face up to 60 years in prison.
In what has been described as the "biggest military computer hack of all time" by Washington, the US government said McKinnon's actions had cost them $800,000 (£487,000). The hacker stands accused of infiltrating 97 separate military and NASA computer systems between February 2001 and March 2002, from his girlfriend's aunt's house in London.
Although Prime Minister David Cameron passionately argued against extradition and insisted on a UK trial when the Conservatives were in opposition, he has thus far been unable to reach an agreement with US President Barack Obama.
McKinnon has already lost an extradition appeal in the High Court and in the House of Lords. However concerns surrounding his mental health could save him from deportation.
As McKinnon suffers from Asperger's Syndrome, it is feared that extradition could drive him to suicide. The extradition decision has already been postponed to allow a team of physiatrists to examine the defendant.
On the eve of the decision, McKinnon's lawyer Karen Todner said: "It has been a long 11-year battle to fight this extradition and we wait with anxiety, but hope, that the Home Secretary will uphold the promises previously made by Mr Cameron and Mr Clegg. We hope that our elected government will uphold the promises they made whilst in opposition and will prevent Mr McKinnon's extradition to America."
It is possible to appeal for a judicial review by McKinnon's lawyers if the Home Secretary decides to send him to the US.
Speaking about the extradition issue, McKinnon's mother Janis Sharp told the BBC that her son has been living a "zombified life."
Sharp said: "This was supposed to be for terrorists this treaty... if you were in a country and you committed a heinous crime and you fled... it wasn't meant for this kind of thing."
Amid the furore over the extradition decision, a Daily Mail report suggests the Home Secretary is expected to announce major changes in extradition procedures through which British citizens could be tried in the UK for their alleged crimes.
There is a move for what has been dubbed as "forum bar". If introduced, it will give a person a chance for a court hearing on where the trial should be held.