Gary Neville: Manchester United Have 'Unrealistic' Chance Of Winning Premier League This Season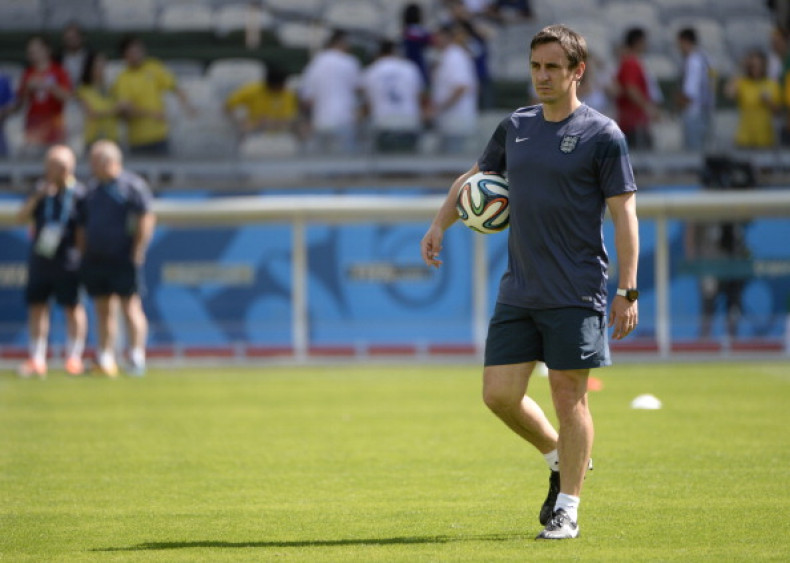 Gary Neville thinks it is 'unrealistic' for Louis van Gaal to win the Premier League title in this first season at Old Trafford, but thinks Manchester United will bounce back into the Champions League.
The former United defender believes Van Gaal needs to recruit two or three more players to have any chance of winning the league, which he thinks will be won by Chelsea.
Talking to Sky Sports, England coach Neville, who won eight league titles at United, said his former club will benefit from not being in European competition this season.
"I think it will work with Louis van Gaal," Neville said.
"They're not in the Champions League and that will give him the time to be able work on his philosophies and his systems in the periods in between the matches when other teams are playing. The most intriguing thing for me is how he does… Unless two or three players come in I don't think it's realistic that he can win the league this year."
Gary Neville's top 4 prediction:
Chelsea
Manchester City
Manchester United
Arsenal
The additions of Diego Costa and Cesc Fàbregas, Neville thinks, will give José Mourinho enough firepower to land the league title. He also thinks the former Barcelona midfielder's time in the English top flight with Arsenal will see him settle quickly.
Premier League champions Manchester City have not strengthened sufficiently, Neville believes, to challenge for the Champions League, adding it might soon be time for City to shun the transfer market and start bringing through emerging talent from its enviable academy.
Meanwhile, Neville predicted Liverpool will not be able to cope the added demands of a European campaign and a title tilt with its current squad, and would fall out of the top four. He added Brendan Rodgers required "17, 18 or 19 quality players", but already had a strong nucleus to form his squad.