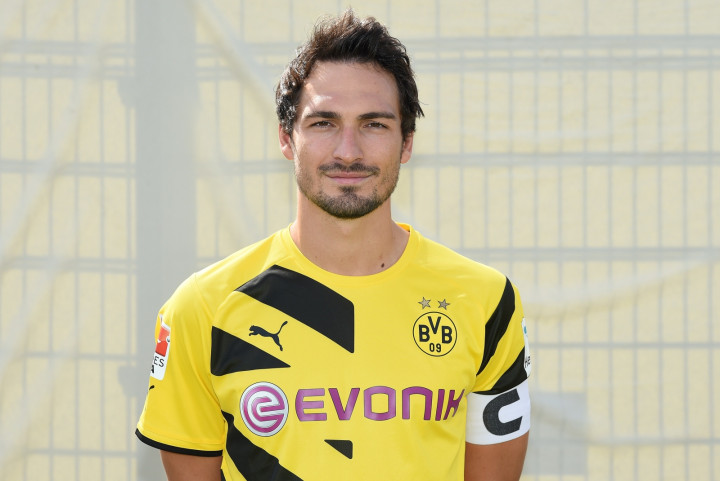 Borussia Dortmund manager Jurgen Klopp has reiterated that new captain Mats Hummels will not be joining Manchester United this summer.
Hummels has consistently been linked with a move to Old Trafford since inspiring Germany to a fourth World Cup success in Brazil last month.
United manager Louis van Gaal has made reinforcing his defence his main priority during the remainder of the summer transfer window, but will now be forced to look at alternative targets.
"He is going nowhere," said Klopp after appointing Hummels the new Dortmund captain, succeeding midfielder Sebastian Kehl. "He is staying with us."
Winger Marco Reus has also been linked with a move away from Dortmund, along with Dortmund, however is appears Klopp is desperate to hang on to both his prized assets.
The Dortmund manager recently said: "I can assure everyone that there are no signs that those two players want to leave. Marco and Mats will play for us the next season.
"What are we talking about today? Mats to Manchester United? For how much? €20m (£15.8m)? With those kind of sums can you forget that straight away."
With Van Gaal seemingly intent on playing three centre-backs this season, the former Netherlands manager is in desperate need of new players with Chris Smalling, Jonny Evans and Phil Jones the only senior defenders available.
Rio Ferdinand, Nemanja Vidic and Patrice Evra have all departed the club this summer however Van Gaal is yet to sign the raft of replacements expected. So far he has only sanctioned deals for left-back Luke Shaw and midfielder Ander Herrera.
The-62 year-old has hesitated in committing to strengthening his United squad having only been in official control for a month but stated last month that covering for the loss of Ferdinand, Vidic and Evra was of vital importance.
"I am looking at the defenders we have first," he said.
"And, when you see our three matches [during United's pre-season tour], we are doing well, I think. But it is right that we are looking for defenders, because a lot of defenders have gone.
"We have to replace them but I also like Michael Keane and Tyler Blackett."