A gay porn star has refused to back down over remarks he made about deceased porn actress August Ames.
Bruce Beckham attacked Ames over Twitter after she said wouldn't shoot scenes with actors who have done m/m scenes on camera, citing concerns about sexually transmitted diseases.
On 3 December she wrote: "Whichever (lady) performer is replacing me tomorrow... you're shooting with a guy who has shot gay porn, just to let cha know. BS is all I can say Do agents really not care about who they're representing?"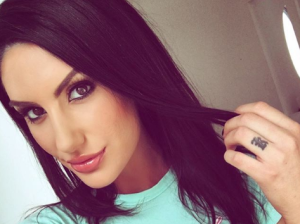 Beckham claimed her views made her homophobic. "Turns out being an uneducated homophobe DIDN'T get you a pat on the head? Maybe think next time before you word vomit for attention," he said on Monday (December 4).
Canadian-born Ames passed away on Wednesday night and Los Angeles police have now confirmed that her death was suicide. Friends claim that online bullying was a decisive factor in her death.
Beckham has refused to withdraw his remarks and created further offence by saying Ames was "ignorant" and "uneducated".
"On Monday I called out a homophobic performer for her ignorance and uneducated bias. She allegedly chose to end her own life when she was exposed to the same vitriol that gay people have been exposed to globally for decades," he wrote on Wednesday (December 6).
Early on Thursday he seemed to offer an apology and expressed regret over her death.
"Condolences for the irreparable loss and sorrow. I never publicly or privately wished @AugustAmesxxx self-harm or violence. Suicide is never a solution for anyone, no matter what. RIP young girl. I'm sorry for calling you homophobic without initiating private discourse."
Bruce Beckham, 46, lives in New York and has acted in over 36 adult movies, including Fire Island Cruising 8 and Bad Cop.
Many have criticised Beckham and claim that his comments were "tone deaf" and "cruel".
However, other actors have come out in support of Beckham over the matter.
The Samaritans provides a free support service for those who need to talk to someone in the UK and Republic of Ireland. It can be contacted via Samaritans.org or by calling 116 123 (UK) or 116 123 (ROI), 24 hours a day, 365 days a year.