While reacting to fellow actress August Ames's suicide, porn star Jenna Jameson revealed that her previous comment on transgender women Ines Rau appearing in Playboy triggered an "incredible amount of attacks" on her and she received death threats by people part of the LGBT community.
"I would like to point out the incredible amount of attacks that were made on me by the LGBT community when I voiced my opinion on a trans woman being in Playboy. I received death threats against me and my daughter. This went on for days. This mob mentality must end," the 43-year-old adult actress wrote on social media.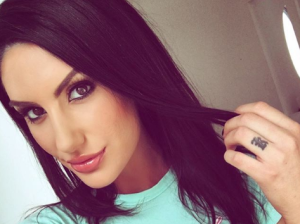 Jameson has been vocal against cyberbullying and has also accused people inside the porn industry for inciting Ames to commit suicide. The 23-year-old Ames ended her life after being attacked on social media for her opinions on the LGBT community.
The actress continued to criticise the LGBT community with a series of tweets. "This makes me ill... I see something very consistent about these attacks made by the LGBT community... they try to strip your integrity, dehumanize you. Sickens me."
Ames hanged herself after she was accused of being homophobic. She had tweeted that she did not want to film a scene with a male who had earlier filmed a gay sex scene. Her tweet alluded to health concerns.
"Whichever (lady) performer is replacing me tomorrow for @EroticaXNews, you're shooting with a guy who has shot gay porn, just to let cha know. BS is all I can say‍♀️ Do agents really not care about who they're representing? #ladirect I do my homework for my body.
Jameson claims that members of the porn industry helped incite hatred against her friend and thereby drove her to take the drastic step.
"The scariest part of the attacks on @AugustAmesxxx is that they were led by quite a few big females in the adult industry. These women fanned the flames of the trolling against August. Everyone should read the thread. So disappointing and tragic," another of her tweets reads.
In an interview with the Blast, the "Queen of Porn" said she was shocked by the female members of the porn industry who bullied August by misinterpreting her quote about her choice of who to work with and triggered hatred among thousands of their followers.
"I am so disappointed in some of the people in the adult industry. I am also shocked and dismayed at a few FEMALES that attacked and helped fan the fire against my friend August," she added.
The adult actress ended her Twitter rant by adding that she may still get serious threats for her blunt opinions and exposing her colleagues on social media. "On that note, I'm going to bed... goodnight. And if the lynchmob tries coming for me while I sleep, trust me I wake early... and I will thrash you," her post reads.
The Samaritans provides a free support service for those who need to talk to someone in the UK and Republic of Ireland. It can be contacted via Samaritans.org or by calling 116 123 (UK) or 116 123 (ROI), 24 hours a day, 365 days a year.