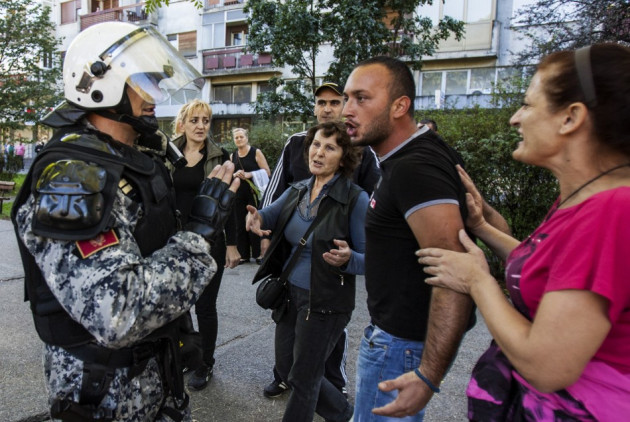 Almost 2,000 police guarded the 150 Montenegrins who successfully staged their country's first gay pride march in Podgorica.
However, police in the Montenegrin capital were forced to use tear gas against dozens of protesters in the staunchly conservative Balkan state.
The violence started when attackers tried to shove through cordons set up by police.
Police said that about 20 of the 60 people injured in the clashes were officers, and the remaining 40 were from "hooligan groups".
Pride marches are seen as a test of Montenegro's commitment to human rights as it seeks to join the European Union.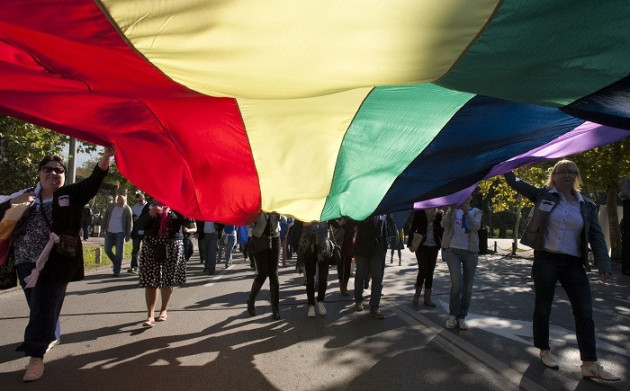 The Gay Pride 30-minute walk through the centre of Podgorica was the second attempt to hold a march in Montenegro. Gay rights opponents attacked a similar march in July in the coastal town of Budva, chanting "Kill the gays", and clashed with police protecting about 40 marchers.
The Podgorica march was bristling with police as streets were cordoned off and uniformed officers were deployed on the roofs, as a helicopter circled overhead.
"We were up against enormous challenges but we did it.... From this day we are no longer invisible," said Danijel Kalezic, leader of the Queer Montenegro group. "This was the first Pride and every year there will be more and more of us."
Kalezic said the police protection allowed about 150 gay activists to walk peacefully through the city.
The small column of gay rights supporters, including a number of human rights activists and journalists, carried banners that read: "These streets belong to us, too", and "Everyone has their own right". Slogans carried by the marchers read, "Kiss the gays".
However, many in the Balkan country are fiercely anti-gay. In a survey last year, 71% of Montenegrins said they believed homosexuality was an illness and 80% said it should be kept private.
The Orthodox Bishop Amfilohije Radovic had asked the organisers of what he termed "The Parade of the Shameless in Podgorica" to cancel the event.