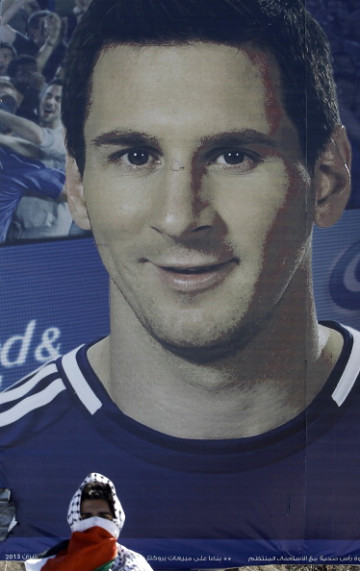 Nearly two weeks after Argentine soccer star Lionel Messi posted a picture of an injured Palestinian child on his Facebook page, expressing his resentment at the loss of young lives, pro-Israel social media users are calling on the footballer to also acknowledge the death of four-year-old, Daniel Tregerman, on Friday (22 August).
Tregerman was killed by a mortar fired on from Hamas. He was reportedly a Messi fan.
Hello messi, take a look at that boy, daniel tregerman, wearing the national jersey of the best player in the wor... pic.twitter.com/WtS65UUy7D

— #GER World Champions (@WorIdChampions) August 23, 2014
Daniel Tregerman, the 4yr old #Israeli boy who died from #Hamas rocket today, was big fan of Leo #Messi. Gr8 if @FCBarcelona cud honor him? — Arsen Ostrovsky (@Ostrov_A) August 22, 2014
Some people even blamed Messi's soccer team, FC Barcelona's sponsor, Qatar Airways, for funding the Hamas militants in Gaza.
#Messi u were Daniel's hero& he been killed by mortar that the sponsor of yr team #Barcelona sponsored ‼️ pic.twitter.com/ycLq7wx5cQ

— orli sagi (@SagiOrli) August 23, 2014
Others simply expressed remorse over the loss of young lives on all ends.
Both sides now. http://t.co/PPvjOq05Lo — Sarah Tuttle-Singer (@expatbarbie) August 23, 2014
RIP Daniel Tregerman. Your death as tragic and senseless as that of all the children killed in this conflict. I hope peace is found soon.

— Samantha Jenner (@SamJenner77) August 22, 2014
The original Facebook post Messi had published, appears to have been taken off his official Facebook page now, appearing only on other Messi fan pages.
Tregerman is reportedly the first Israeli child to be killed in the Gaza conflict, as of July 8, according to the Times of Israel.