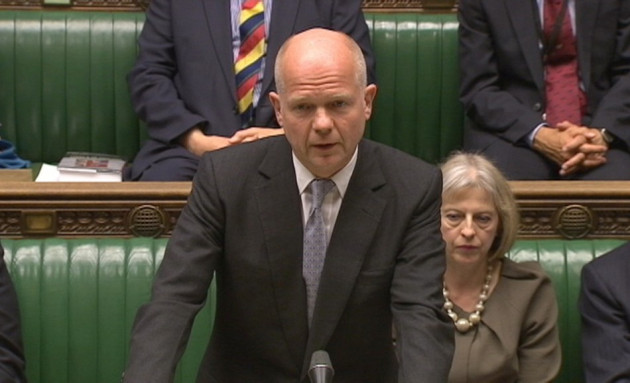 GCHQ may have received data about UK citizens from the US National Security Agency (NSA) without asking for it, according to an expert on Britain's central eavesdropping hub.
Prof Richard Aldrich of the University of Warwick told IBTimes UK that the NSA may have proferred the data to get around British privacy law.
Echoing remarks at the House of Commons by David Blunkett, home secretary from 2001-04, Aldrich saidthat any request for intelligence on British citizens by GCHQ would be "less regulated if the Americans would volunteer information".
British agents have to seek ministerial approval through the Regulation of Investigatory Powers Act (Ripa) of 2000 to request information from the US.
During the parliamentary debate, Foreign Secretary William Hague described as "baseless" the claims that GCHQ has circumvented UK law by accessing data through the Prism program set up by the NSA to gather information about "foreigners".
Documents leaked to the Guardian by Edward Snowden suggested that GCHQ generated 197 intelligence reports from Prism in 2012. Following the leak, former foreign secretary Malcom Rifkind, now chairman of parliament's Intelligence and Security Committee (ISC), said the eavesdropping centre might have broken the law if it asked for data about UK citizens without the approval of ministers.
But Aldrich, who wrote the book GCHQ, said: "GCHQ have been hiring the best lawyers to be sure to be on the right side of the law.
"Intelligence agencies do learn [from their mistakes]. If they are not careful to get the right permission, people would go to jail. Both the NSA and the GCHQ are careful to obey the law."
Secret justice
Although other agencies such as MI5 and MI6 increasingly work in teams with GCHQ, Aldrich doubted they knew about Prism.
"There might have been senior number of people who knew but I don't think it was widely known," he said.
According to Aldrich, the real problem was the extreme secretiveness of the Foreign Intelligence Surveillance Court (Fisa), which he called a form of secret justice.
Set up in 1978 by Congress to act as a check on the Washington's broad surveillance powers, Fisa has been labelled a "kangaroo court with a rubber stamp" for government surveillance requests by Russell Tice, a former NSA analyst.
"It's time that people are told on broad terms what these agencies can do and cannot do," Aldrich said. "In the UK I know what police can do. It's clear."
He was struck by Hague's phrase, "We have a very strong case for revisiting legislation".
Aldrich explained: "What he's saying is that the Ripa and the Intelligence Services Act of 1994 are lawful but are out of date and need to be revisited. It's a kind of concession that the law is not terribly suited.
"They are out of date because technology changes all the time. They were drafted more than 10 years ago."
Another body that needs to be revisited, he said, was the ISC, a committee of MPs appointed by the prime minister to oversee the work of MI5, MI6 and GCHQ.