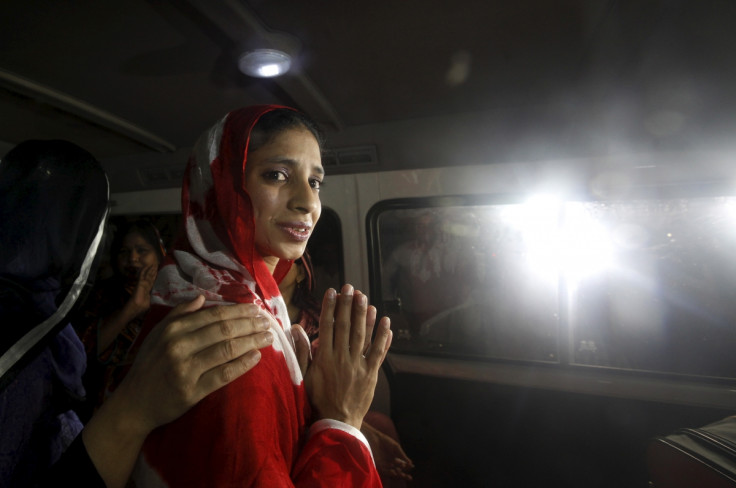 The Indian woman Geeta, who accidentally crossed over to Pakistan about 13 years ago, has been reunited with her family in Delhi. The deaf-mute woman recently recognised them from photographs sent to her by the Indian government. She was about 11 when she was found sitting alone on a train by Pakistan Rangers at the Lahore railway station.
Geeta's plight attracted added attention after release of the Bollywood film Bhajrangi Bhaijan starring Salman Khan. The plot of the film resembles Geeta's case.
Geeta, now 23, who flew to Delhi from Karachi, was accompanied by the Edhi family, who looked after her all these years at their shelter home in Karachi. The Edhi family members said they were assured by the Indian government that they could remain in Delhi till the DNA tests to confirm Geeta's parentage are completed. Geeta had identified a person called Janardhan Mahato as her father in the photographs sent to her. She had also identified her stepmother and siblings. While, two people claiming to be Geeta's family members were present at the Delhi airport, they could not meet her as she was swiftly taken away.
Mahato, who is ecstatic about Geeta's return, had said that the young woman was his first-born daughter. He claimed she was lost in a fair in 2004. "They can take a DNA test or whatever they want. I am not running anywhere. I will pass the DNA test."
"If the DNA of the family matches with Geeta's DNA, she will be handed over to them. If the DNA does not match, then Geeta will be taken care of by a good organisation till she meets her real family," the second secretary of the Indian high commission in Pakistan, P K Jain, was quoted as saying by the Times of India.
India's External Affairs Minister Sushma Swaraj tweeted: "A daughter returns home." Geeta's homecoming injects some much-needed warmth into relations between India and Pakistan. Tensions between the two nuclear-armed rivals have been on the rise in recent months over border skirmishes and the targeting of Pakistani cultural ambassadors as well as cricketing ties by right-wing elements in India.