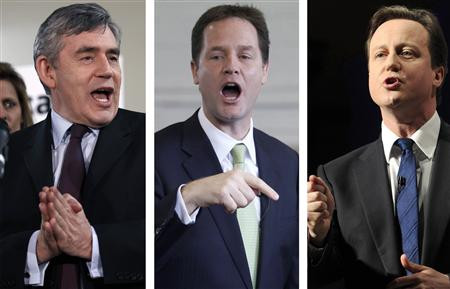 14:46: David Cameron has said he would consider electoral reform and has offered to help Lib Dems implement parts of their manifesto.
13:45: Gordon Brown is making a statement - he has said these are "no ordinary election results". He said he "understands and respects" Nick Cleggs statement that he wished to speak to Mr Cameron first. He adds that he would be prepared to speak to Mr Clegg about areas where there are "measures of agreement" between him and Mr Clegg, especially on voting reform.
11:21: Labour have said that there is a basis for a deal between them and the Lib Dems, despite Nick Clegg apparantly looking to the Tories.
10:41: Nick Clegg has called the results a "disapointment" for the Liberal Democrats, despite the party gaining more votes than ever before. He said that people had "chosen what they know best" and that he understood that at a time of financial crisis. He has said that the Conservative Party should "prove that it can govern in the national interest" and adds that the election results show the electoral system is "broken".
10:26: Gordon Brown has instructed the civil service to facilitate talks between the parties in the search for a new government.
10:17: The Prime Minister's office is expected to release information soon, clarifying the current situation.
09:48: It's now confirmed, it is a hung parliament, it's statistically impossible for the Tories to get a majority. Still no idea who will form the next government.
07:38: Still no clear winner from the election. The Tories are still 40 short of a majority, with other 50 seats yet to declare. Will it be a Conservative minority government? a Lib-Lab pact or even a Lib-Con pact?
06:05: News from some of the more interesting election battles. The BNP failed to make a serious impact in Barking, with Labour MP Margaret Hodge receiving 22,000 votes compared to BNP leader Nick Griffin's 6,000. However Caroline Lucas has made a minor piece of history after becoming the first member of the Green Party to be sent to Westminster at the seat of Brighton Pavilion.
05:07: Hazel Blears, who famously "rocked the boat" by resigning from Gordon Brown's government following a terrible set of election of results in the 2009 EU elections and mocked Mr Brown's YouTube video on expenses has held her seat with a majority of 6,000.
04:54: The Lib Dems have unseated Blairite Charles Clarke. It is unlikely that the new MP will be a fiercer critic of Gordon Brown than Mr Clarke has been.
04:50: Rumours that Ed Balls had lost his seat were premature. He holds onto his Morley & Outwood constituency with a reduced majority of 1,000. There will be no "Balls moment" for the Conservatives to savour with the same relish that Labour remember the "Portillo moment" of 1997 with.
04:41: The Conservatives have passed the 200 mark, less than 150 seats left to be declared, so they are unlikely to get their majority of 326.
04:39: Following in Jacqui Smith's footsteps, another Labour minister caught out in the expenses scandal, Shahid Malik, has lost his seat to the Conservatives.
04:35: Jacqui Smith, the first woman Home Secretary, and the first MP to have been found to have claimed for pornographic videos on expenses, has lost her Redditch seat to the Tories.
04:32: Labour have been making noises about electoral reform towards proportional representation in a bid to get Lib Dem support. However looking at the figures they may need to be careful what they wish for. Labour currently have 3.2 million votes in their favour, compared to 3.1 million votes for the Lib Dems, in terms of seats however Labour have 179, Lib Dems 17 - are they really going to sacrifice their party just to keep the Tories out?
04:27: Esther Rantzen has failed in her bid to become an MP in Luton South, losing out to Labour candidate Mr Shuker, Ms Rantzen came a poor fourth.
04:24 Another big loss for the Lib Dems following Lembit Opik's loss of his seat. Dr Evan Harris, also known as "Dr Death" for his more liberal than usual views on abortion and euthanasia, has lost his Oxford West seat to the Tories by a mere 170 votes.
04:18: David Davis, the man who fought against David Cameron for the leadership of the Tory Party, and resigned as an MP in order to fight a by-election on the issue of civil liberties, has been re-elected. Rumours also suggest a very close race in the constituency of Ed Balls, a key supporter of Brown and possible future Labour Party leader - providing he can hold his seat.
04:08: Over half of the results have been announced but still we are no nearer to knowing who the winner is yet. The Conservatives are ahead but still no sign of a majority.
04:04: The Conservatives have brought an end to Richard Taylor's time as Independent MP for Wyre Forest. Mr Taylor was one of the most successful Independent MP's, having been elected twice, initially to protect the future of Kidderminster hospital.
03:57: Jack Straw has kept his Blackburn seat.
03:48: Rochdale has remained Labour, despite the incident in which Gordon Brown called a Rochdale resident a "bigoted woman".
03:37: Conservatives are starting to break away from Labour, however it still does not look like enough to avoid a hung Parliament, but still 2/3 of seats to be declared.
03:22: Labour and Tories are neck and neck with just under a 100 seats each so far. Lib Dem surge seems to have been a fantasy as the party has yest to break 20 seats.
03:07: Chancellor of the Exchequer Alistair Darling has been re-elected as member for Edinburgh South West, with an increased majority. No comment on the economy, just a standard thank you to all my voters.
02:58: David Cameron has unsurprisingly held his Witney seat, despite being up against the leader of the Monster Raving Looney Party. In his victory speech Mr Cameron said, "Whatever happens tonight, whatever the future may hold I will always work hard as a constituency MP". He adds, "I believe it is already clear that the Labour Party has lost its mandate... What is clear from these results that this country wants change, that requires new leadership".
02:56: Broxtowe goes to the Tories, but with a majority of less than 400. Who comes out on top in this election is still anyone's guess.
02:54: Shadow Defence Minister Liam Fox has held his seat. David Cameron's Witney seat is expected to be declared soon.
02:48: Lembit Opik tells the BBC that he "did not expect" to lose his seat in Montgomeryshire.
02:44: Lib Dem Chris Huhne has held onto his Eastleigh seat and increased his majority from a few hundred to a few thousand, while another Lib Dem has taken Eastbourne from the Tories.
02:41: The Tories have failed to take Somerton and Frome from the Lib Dems, it was 11th on their list of targets.
02:33: Labour big beast Alan Johnson has kept his seat, as has the smaller Douglas Alexander.
02:27: The Tories have taken bellweather seat Basildon South with a majority of around 4,000. A swing of 7.5% to the Tories.
02:02: A minor shocker as odd-looking Lib Dem Lembit Opik loses his seat to Glyn Davies of the Tories. Good news for the Conservatives in Wales, they have now taken three seats in the principality and evidence that the "Lib Dem surge" and "Cleggmania" may have been media myths.
02:15: The Conservatives have taken their first seat in Wales. A swing of over 7% takes Aberconwy out of Labour hands and sends a Tory to Westminster with a majority of 3,400.
02:09: Labour have re-taken Glasgow East from the SNP with avengence. The SNP took the seat from Labour in a shock by-election result in 2008. Labour now have a majority there of nearly 12,000.
02:02: Ben Bradshaw, Labour Minister for Culture has kept his Exeter seat, although there was a swing to the Conservatives of 6 per cent. Former Liberal Democrat leader Menzies Campbell has also held his seat.
01:50: The Tories have held of the the Lib Dems in Guildford.
01:45: Hopes of a "Portillo Moment" in London have been dashed as Labour Transport Minister Sadiq Khan has been re-elected in Tooting with a majority of 3,000, a swing of 8 peervatives and has increased her majority by 8,000. 01:09: Torbay has been declared as a Lir cent to the Tories.
01:42: Shadow Business Secretary Ken Clarke has been re-elected. His opposite Peter Mandelson obviously does not need to worry about being re-elected, being a Peer in the House of Lords.
01:31: Gordon Brown has held onto his seat and says in his victory speech he is "proud of much of what the Labour government has achieved" before adding that, "the outcome of this election is not yet known". He finished saying to his constituents, "I will not let you down".
01:28: Labour figures are sounding defiant in the face of an exit poll and indications of a swing to the Conservatives. They are showing no signs of giving up office unless its clear the Tories have a majority.
01:16: Another interesting result from Northern Ireland as Sylvia Hermon wins with a huge majority of 15,000. She was previously an Ulster Unionist but opposed their merger with the Tories and ran as an Independent. The official Ulster Unionist candidate came a very distant second.
01:13: Justine Greening has held Putney for the Consb Dem hold, with the Conservatives 4,000 votes behind, a swing to the Lib Dems from the Tories.
01:03: The Tories have their first seat, they have taken Kingswood from Labour on a swing of over nine per cent.
00:56: The Lib Dems have held onto their seat of Thornbury & Yate, althlough with a swing to the Conservatives. Labour have also held onto Durham North Darlington, both with swings to the Tories. Plaid Cymru have made a gain in Arfon.
00:49: First upset of the night. Peter Robinson, Democratic Unionist First Minister of Northern Ireland has lost his seat to the Alliance Party in Belfast East. It's the Alliance's first ever seat. The party is not linked to either the Catholic or Protestant community and is connected with the Liberal Democrats in Britain.
00:41: The DUP, not to be outdone have also their first seat on the scoreboard. Ian Paisley Junior has held North Antrim, fighting off a challenge from the more hardline Jim Allister of Traditional Unionist Voice.
00:38: Sinn Fein have held West Tyrone with a majority of 16,000.
00:27: Apparantly the turning away of voters in Sheffield has been blamed in part on students coming to vote without polling cards, slowing down the process. One of the worries raised by this apparant scandal is that while some polling officers turned voters away, others allowed voters into the stations and locked the doors, allowing them to vote after the 22:00 deadline but without being influenced by exit polls.
00:08: The Electoral Commission has promised a review into the fact that some voters were prevented from voting due to polling stations closing while people were still queing outside. In some polling stations it seems there were not even enough ballot papers. A lot of outrage from voters who were turned away. It seems President Ahmadinejad may have helped plan this election.
23:53: More on the status of UKIP's former leader Nigel Farage. It seems he will not be attending his own count due to his injuries sustained in a plane crash earlier today. It's still not clear whether he was even able to vote as polls opened at 07:00 and his plane came down at around 08:00.
23:42: Sunderland Central has also come out for Labour, yet again, a swing to the Conservatives of five per cent in that seat.
23:25: Washington & Sunderland West has declared for Labour with a huge majority. Not much of a surprise however the majority has been slashed from 17,000 to just 11,000, a larger swing away from Labour than Tony Blair achieved against the Tories in 1997.
23:23: There are stories circulating that in a number of seats voters were prevented from voting after returning officers closed the doors to polling stations when voting officially closed at 22:00 despite long queues being present.
23:05: Despite winning the seat in Sunderland, the swing against Labour was significantly stronger than that predicted by the exit poll, suggesting the Conservatives may actually scrap a majority - although its a big assumption from just one seat.
22:52: The first result is in! Labour have held Houghton & Sunderland South. Not much of a suprise, although her share of the vote dropped 10%.
22:40: Senior Labour figures like Alan Johnson and Lord Mandelson are making favourable noises about changing the electoral system to a form of proportional representation. They already seem to be trying to cosy up to the Lib Dems who, if the exit poll is correct, are Labour's only hope of staying in power. The alternative is a Tory minority government.
22:17: More on that exit poll - The Lib Dems may be disappointed to see their number of seats drop a little to 59 despite "Cleggmania", however they would still hold the balance of power in the Commons, should they join with Labour their combined seat total will be 314, still short of a majority but more than the Tories 307 - assuming the exit poll is accuate - a big if.
22:15: The first results are expected to be coming in before 22:45 pm, the first seats to declare are usually Labour strongholds, such as Sunderland, so we won't be seeing the big picture for quite a while.
Exit Poll:
The exit poll is showing a hung Parliament with the Conservatives forming the largest party in the Commons. The predicted figures are 307 seats for the Conservatives, 255 for Labour, 59 for the Lib Dems and 29 to Others.
So the polls have closed and the future of Britain and its economy has been decided by millions of voters up and down the Kingdom. Stay here to find out the results as they are announced as we go through the night to find out who will be governing Britain tomorrow.
Turnout is expected to be higher than usual in what has been the closest fought election campaign since 1992, when Conservative John Major gained a surprise victory over Labour's Neil Kinnock.
Sales of party manifestos have more than doubled at this election, also suggesting that voters are particularly interested in who to cast their vote for.
Overcast and drizzly weather may have had a negative effect on turnout on election day, which seemed relatively quiet as candidates end their campaign by going to their local constituencies to vote, following weeks of political argument.
The quiet was briefly broken by former UKIP leader Nigel Farage who was involved in a plane crash as he attempted to fly a UKIP banner from a light aircraft. Both he and the pilot survived and received non-life threatening injuries, although the pilot's injuries are believed to be more serious than those of Mr Farage.
Stay online for the latest news and results, the first of which should be with us within the hour...