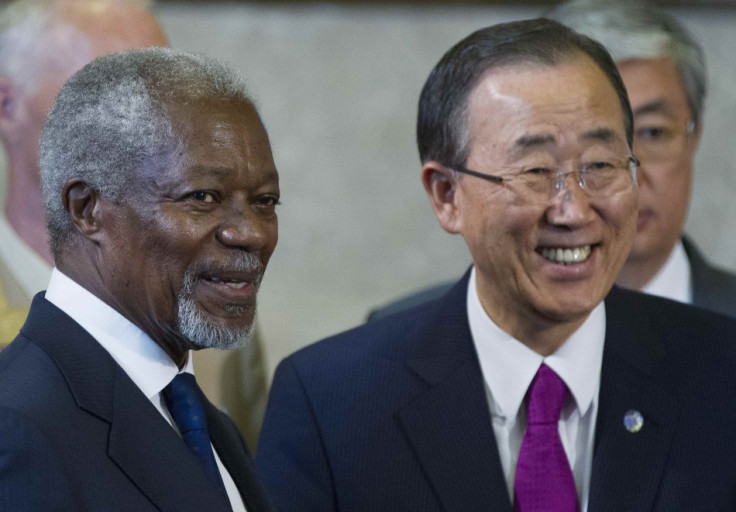 World leaders who met in Geneva on Saturday agreed on a transitional government with full executive powers in Syria to end the violence while leaving the role of Bashar-al-Assad for speculation.
According to the final communiqué, the transitional government should be formed "on the basis of mutual consent" indicating the inclusion of both government and opposition members in the new government.
"We are determined to work together urgently and intensively to bring about an end to the violence and human rights abuses, and the launch of a Syrian-led political process, leading to a transition that meets the legitimate aspirations of the Syrian people, and enables them independently and democratically to determine their own future," said UN peace envoy Kofi Annan.
"It is for the people of Syria to come to a political agreement. I will doubt that the Syrians who have fought so hard to have independence... will select people with blood on their hands to lead them," Annan replied to a question on Syria's future government.
However, the fate of Assad who ruled the country for 11 years was a major point of discord between the US and the allies of Syria.
"Assad will still have to go. What we have done here is to strip away the fiction that he and those with blood on their hands can stay in power," said US Secretary of State Hillary Clinton.
On the other hand, Russian Foreign Minister Sergei Lavrov maintained that the deal did not imply that Assad should step down or it endorsed a West-imposed process on Syria.
Russia was also successful in omitting the texts in the communiqué referring to avoid the participation of those who undermine the credibility of the transition government, a clear reference to Assad supporters.
British Foreign Minister William Hague welcomed the outcome of the discussions which took nearly nine hours and the fact that Russia and China agreed on the idea of a transitional government.
"I think the result is a step forward, it is only a step forward but it is a step forward that is worth having," Reuters quoted Hague as saying.
The meeting was attended by foreign ministers of the five permanent members of the UN Security Council - Russia, the United States, China, France and Britain. Others who were part of the meeting were Turkey, Kuwait and Qatar.
Ban Ki-moon, the UN Secretary-General, Nabil Elaraby, the Arab League head, and EU foreign policy chief Catherine Ashton also attended the meeting along with Kofi Annan.
No representative from the Assad administration or the opposition participated in the Geneva talks. Iran, the closest regional ally of Syria, and Saudi Arabia which has a sour relationship with both Damascus and Tehran, stayed away from the meeting.