George Galloway: Ukip's Nigel Farage is in my League - But Not as Good as me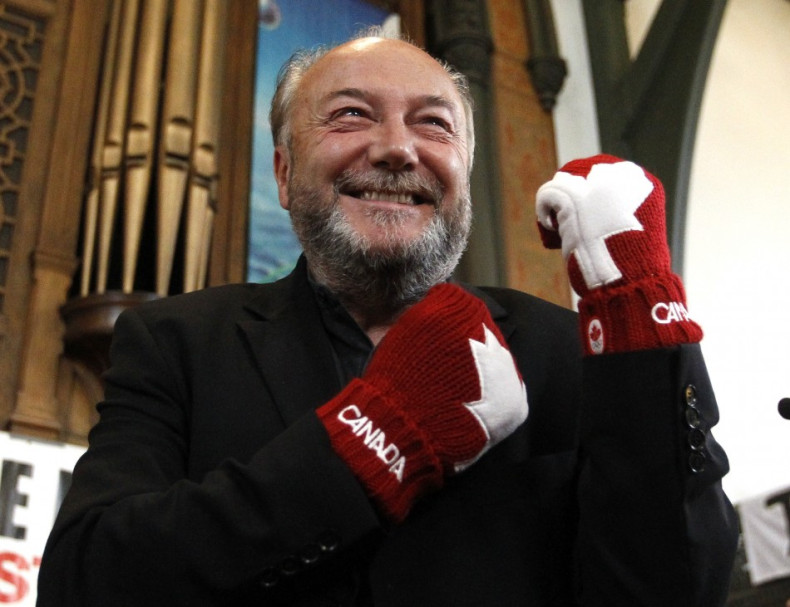 George Galloway has described Nigel Farage as a poor man's version of himself, and claimed the rise of Ukip is an indictment of the weakness of Britain's three main political parties.
Speaking exclusively to IBTimes UK, Galloway said he and Farage were "in the same league" but that the Ukip leader was "not as good as me".
"He's speaking for people who aren't spoken for by the three cheeks of the same backside, the big three parties," said Galloway.
Ukip's political strategy is based on a vehement Euroscepticism. Farage has courted controversy with his blunt denunciations of other nations, notably when he described Belgium as "pretty much a non-country".
Alluding to the party's pro-British stance, Galloway said: "I'm not one of those who believe supporting Ukip makes you a racist - some will be racist, but not all. However, it definitely makes you misguided."
Like Farage, Galloway is strongly opposed to the perceived excesses of the European Union. He said the inability of the established political parties to curb these excesses had played into Ukip's hands.
"The pusillanimity of the political class on European matters has helped contribute [to Ukip's rise]," he claimed. "They fuss and threat over the shape of the bananas, yet they allow the accounts of the EU to proceed unaudited.
"They are dedicated to an economic model through the European bank which has brought us to this sorry state, and to supporting the bloated European parliament which spends hundred of thousands of pounds on expenses which no-one hears anything about.
"The British parliament is a shadow of its former self - poodles with pagers who follow the leader when they are not stabbing him in the back, and no-one pays much attention any more."
Lipstick on a pig
Many have also interpreted Ukip's rise as a comment on the failings of the Conservative party, and specifically David Cameron, who was the subject of fierce criticism from Galloway over his approach to Margaret Thatcher's funeral.
Galloway - who last week vowed to keep Cameron in parliament all day so he could not atted the funeral - described the Tory leader as "a poor excuse for a prime minister". David Davies would be a better choice to lead the party, he said.
Refering to the racist comments about Pakistani pupils in London made by Tory councillor John Cherry last week, Galloway said: "Such racialisation is absolutely despicable, but typical of the backwoods and grassroots within the party.
"As I said during the budget debate, the Tories are determined not to do a u-turn - but there's no right turn so low to which they won't stoop.
"Mr Cameron is simply the lipstick on the pig."