The influential music producer and the man who was known as the "Fifth Beatle", Sir George Martin has died aged 90. The news was revealed on Twitter by Beatles drummer Ringo Starr who wrote: "God bless George Martin peace and love to Judy and his family ... Thank you for all your love and kindness George peace and love xx."
A statement from Martin's management company, CA Management:
"We can confirm that Sir George Martin passed away peacefully at home yesterday evening, Tuesday March 8th. The family would like to thank everyone for their thoughts, prayers and messages of support.
"Sir George started producing records for EMI's Parlophone label in 1950. He was noted for his comedy recordings with the likes of Peter Sellers, Spike Milligan and Beyond the Fringe and got his first Number 1 with The Temperance Seven in 1961. He signed The Beatles in 1962 and, with the band, helped revolutionise the art of popular music recording.
"In a career that spanned seven decades he was recognised globally as one of music's most creative talents and a gentleman to the end. The family ask that their privacy be respected at this time.
As head of the Parlophone music label, Martin was looking for a rock act when he met the Beatles manager Brian Epstein in 1962. He signed them up although they had been rejected by every other British label.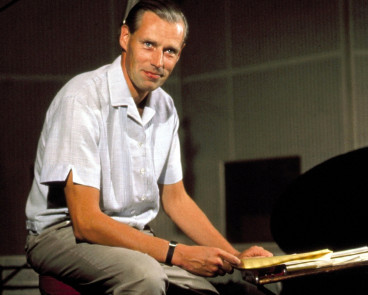 George Martin was born in London on 3 January 1926 and went to the Navy. After he left in 1947, he studied piano and oboe.
He was a composer, arranger and musician and was behind 30 number one singles in the UK and 23 in the US, throughout his career.
He produced virtually all of The Beatles' songs and introduced arrangements into Yesterday and A Day in the Life.
He also worked with many other artists, including Gerry and the Pacemakers, Shirley Bassey and Cilla Black. He also worked with Jeff Beck, Bob Dylan, Sting and recorded two of Sir Paul McCartney's solo albums, Tug Of War and Pipes Of Peace.
The Queen awarded him with a CBE in 1988, and Sir George received a knighthood in 1996. His final song was when he helped re-record Elton John's Candle in the Wind which was re-purposed as a tribute to Princess Diana.
He is survived by his children Giles, Alexis, Gregory and Lucy.